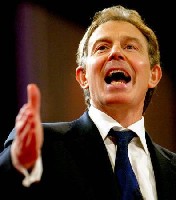 On the BBC's Andrew Marr Show, Foreign Secretary David Miliband voiced support for Tony Blair to be the first post Lisbon, ad personam President of the European Union whilst at the same time declaring that so far as the other high-ranking post created by the Lisbon Treaty, High Representative for Foreign Affairs: "I am not a candidate for that. I am not available."
Miliband went on to say that a Blair presidency would be "very good for Britain as well as very good for Europe" and said he was "puzzled" by Conservative opposition to the prospect of having a British politician in such a senior European role.
Miliband, Tony's "Cronie-in-Chief" appeared to suggest that Blair would only take the job if it gave him actual political power. The EU meets on 29th October to decided upon the remit of its new president.
Mr Miliband stated that Blair wanted a role in which, when he arrived in a capital, "….the traffic does need to stop…." and "….I think it is very important for Europe that it has a strong figure in that role, it has someone able persuasively to advocate the case that is decided by the 27 member states of the EU…." and "….I think it would be very good for Britain as well as very good for Europe if Tony Blair was a candidate and was chosen…."
Of course, absolutely nobody should be in the least bit surprised at this. Mr Miliband, together with his master, Mr. Brown, his cabinet colleague, Mr Straw and his friend, Mr Blair are four British men who share a unique – and utterly treasonous – distinction: that they put their hands to two unique documents.
Messrs. Blair and Straw set their hands to the text of the European Constitution. Messrs. Brown and Miliband set their hands to the text of the Lisbon Treaty.
In historical terms, these two acts are of greater significance than the signatures of the 59 of the 75 Commissioners at the trial of King Charles I. The regicides merely set their hands to the death warrant of a mortal King. When the axe fell on Charles I's neck, that king was dead, but the new king [Charles II] was alive. What Blair and Straw conspired and attempted to do and what Brown and Miliband conspired and did was not to strike a blow at the body of their mortal sovereign lady [Elizabeth II] but to strike a blow at the immortal Crown itself. This is because of a particular clause in both treaties, viz:
"….The [European] Union shall have a legal personality…."
This, one of the shortest sentences in the texts is the most profound. Before Lisbon, these Europhiles could have argued, if arraigned before a court on the charges of High Treason, that they were Not Guilty of:
(1). Causing their Sovereign Lady, Queen Elizabeth the Second, by the Grace of God, of the United Kingdom of Great Britain and Northern Ireland to breach the Coronation Oath, pursuant to the Coronation Oath Act of 1953, pertaining to "….governing us [the British People] according to our [the British People] laws and customs…."
(2). Breaching their own oaths given upon being raised to the Privy Council whereby they:
"….do swear by Almighty God to be a true and faithful Servant unto The Queen's  Majesty as one of Her Majesty's Privy Council. You will not know or understand of  any manner of thing to be attempted, done or spoken against Her Majesty's Person,  Honour, Crown or Dignity Royal, but you will lett and withstand the same to  the  uttermost of your power, and either cause it to be revealed to Her Majesty Herself,  or to such of Her Privy Council as shall advertise Her Majesty of the same. You  will in all things to be moved, treated and debated in Council, faithfully and truly  declare your Mind and Opinion, according to your Heart and Conscience; and will  keep secret all matters committed and revealed unto you, or that shall be treated of secretly in Council. And if any of the said Treaties or Counsels shall touch  any of  the Counsellors you will not reveal it unto him but will keep the same until  such  time as, by the consent of Her Majesty or of the Council, Publication shall  be made thereof.  You will to your uttermost bear Faith and Allegiance to the Queen's  Majesty;  and will assist and defend all Jurisdictions, Pre-eminences, and  Authorities, granted to  Her Majesty and annexed to the Crown by Acts of  Parliament, or otherwise, against all Foreign Princes, Persons, Prelates,  States, or  Potentates. And generally in all things you will do as a faithful and true  Servant  ought to do to Her Majesty so help you God…."
(3). Causing their aforementioned Sovereign Lady to Breach the perpetual treaty, "The Bill of Rights", viz:
"That the pretended Power of Suspending of Laws or the Execution of Laws by Regall Authority without Consent of Parlyament is illegall."
Before Lisbon their defence counsel could have sought to argue that they were Not Guilty as the United Kingdom had merely co-operated by treaty with other sovereign states and that the legal powers used by the European Union were not its [the EU] own but those of its members, the sovereign states.
Lisbon however changes all that. By giving the European Union a legal personality they give the European Union a status and power of its own, which is independent of and superior to those of its members who are now relegated to the status as suzerain or vassal states.
Lisbon provides but one answer: Blair, Brown, Miliband and Straw are Guilty of High Treason.