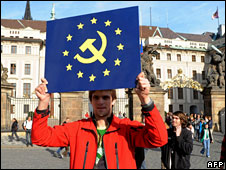 The Czech Constitutional Court has adjourned until next week the hearing that appears to be the last legal challenge to the Lisbon Treaty.
It had been considering a case brought by 17 patriotic Czech senators.
Court officials in Brno said the 15-member Czech Constitutional Court panel would reconvene on 3rd November when a ruling was "very probable."
The court has to decide whether or not the Lisbon Treaty infringes Czech sovereignty.
This clearly is an exercise in politics not law as the legal question is a "no brainer"
How can a treaty that demands of its signatories:
"….the Constitution and law adopted by the Union's Institutions in excercising competences conferred upon it shall have primacy over the law of the Member States…."
And:
"….shall actively and unreservedly support the Union's common foreign and security policy in a spirit of loyalty and mutual solidarity and shall comply with the acts adopted by the Union in this area. They shall refrain from action contrary to the Union's interests or likely to impair its effectiveness…."
NOT be a violation of a national constitution unless that national constitution was specifically set up with clauses for the handing over of national sovereignty ?
The Blairites in the British cabinet want Blair as EU president, though he remains tight-lipped about whether he will bid for it.
Blair may be thwarted however, BBC Europe correspondent Dominic Hughes says Belgium, the Netherlands and Luxembourg are among smaller EU countries that believe the president should come from a Eurozone and border-free Schengen Agreement country.