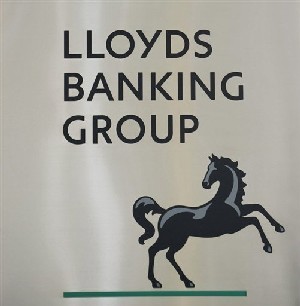 Now we know. Today Lloyds Banking Group have received THE BAD NEWS from this former sovereign state's masters; the never to be sufficiently damned abomination that is the European Union, about how many assets they are being forced to sell off.
Consider this: suppose a court, local authority or other legal authority which had the power, ordered you the reader to sell your car within five weeks. Furthermore, this authority communicated its ruling to every used car dealer and person interested in purchasing a car of the type that you owned. Now, what sort of price do you think the average "Arthur Daley" is going offer ? Top market ? Err. No!
Keith Bowman, an analyst at Hargreaves Lansdown Stockbrokers was reported as stating: "The European Union has effectively torn up the UK's initial rescue scheme for Lloyds/HBOS, with the aim of reducing dominant UK market positions."
The toadying Quislings at the U.K. Treasury who only a short time ago assured Lloyds Bank that "all would be well so far as competition rules were concerned" are now obsequiously following the dictat of their European master, have told Lloyds sell off assets. It further went on to convey the European Union's instructions that only new entrants or "small players" in the UK market will be allowed to buy these assets, raising the obvious questions: who will buy them ? AND: just how little will they pay for them ? The one crumb of comfort is that Lloyds has been given four years to sell the assets.
Lloyds Banking Group are to sell 600 of its retail branches, including Lloyds TSB Scotland and Cheltenham & Gloucester mortgage business branches, as well as its Intelligent Finance and the TSB brand. This means that many employees are not going to have a Happy Christmas or a Prosperous New Year.
To avoid the government Asset Protection Scheme, Lloyds said it would raise 21 billion pounds via a 13.5 billion-pound rights issue and by swapping 7.5 billion pounds in existing debt into contingent capital, which will support the bank's capital requirements. This move will allow Lloyds to avoid the fees associated with the scheme and will cap the government's stake in the bank.
The British Gazette can exclusively report however that Lloyds Banking Group have now been advised of the constitutional implications of the United Kingdom's membership of the European Union should as is now likely the Lisbon Treaty is ratified by the Czech Republic. This in relation to possible actions the bank may wish to take against Messrs. Brown and Darling and others who misled them.