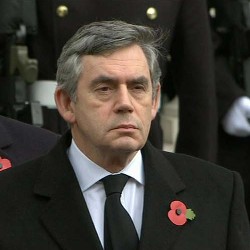 This was Gordon Brown at the Cenotaph on Remembrance Sunday, 8th November, 2009.
His monarch was there by the Grace of God. Brown however was there because of the sacrifice of the fallen of previous genrations. He has a very strange way of showing his gratitude – by gving away the country the fallen died for!
Every year we remember the lives of the fallen – their sacrifice – remembering that ultimate act of loyalty to Crown and Country. The BBC's commentator remarked during the broadcast that if all the fallen themselves had taken part in the march past the line would have stretched to Edinburgh.
That gives a measure to the staggering nerve of the man. This is a man who only days before had seen a document come into effect that will have the result of sweeping away the powers of this country. Powers that the "lost generation" gave their lives to protect and defend. What the fallen gave defended with blood and sword, Brown gave away with pen and ink.
This act of national remembrance is the 90th. On the 11th hour of the 11th day of the 11th month in 1919, His Late Majesty, King George V of the United Kingdom of Great Britain and Ireland, Emperor of India led this Nation and the Empire in the most solemn act of national remembrance. It was a mere year to the day from the Armistice and the memories for most were sharp and near at hand. Many were still suffering from their wounds. Ninety years later – a short time in the history of a nation – Brown and Miliband had the brazen contempt to follow in the footsteps of the forbears. But their forebears (before the 1960s) were honourable men not traitors, perjurers and Quislings.