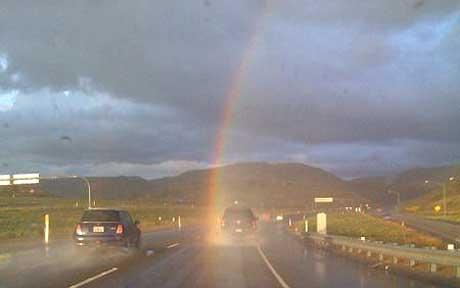 The Irish leprechaun's secret hiding place for his pot of gold is said to be at the end of the rainbow. PROOF that this is not the case has now been found. The above photograph was taken by Mr. Jason Erdkamp on Sunday 8th February, 2009 as he travelled along a motorway in Orange County, California. British Gazette readers will note that there was no pot of gold to help the state out of its deepening financial crisis.
What does this mean?
The logic of the situation is obvious: to a Glow-bull Warmist.
There is no pot of gold at the end of the rainbow. Therefore no leprechaun placed any gold there. Since there is no gold, there can be no leprechauns.
Welcome to the world of the Glow-bull Warmist!