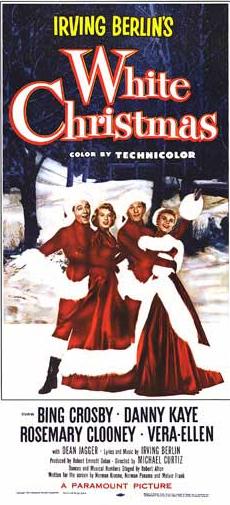 The above is the poster of the movie, "White Christmas" the 1954 Technicolor musical motion picture starring Bing Crosby, Danny Kaye, Rosemary Clooney (aunt of George) and Vera-Ellen that featured the songs of Irving Berlin, including the now famous Bob Hope classic, "I'm Dreaming of a White Christmas".
The film was directed by Michael Curtiz and was the first to be produced and released in VistaVision, a wide-screen process that entailed using twice the surface area of standard 35mm film giving a better picture.
It seems that the Almighty might have a sense of humour – with all the warmists at the Global Climate Synod in Copenhagen worrying about the earth heading towards superheating tipping points and urging Our Dear Leader a.k.a. Gordon Brown (of that Ilk) to hand over even greater wads of cash to an assorted collection of African and Asian dictators, certain members of which were described by the late Ronald Regan, President of the United States of America as, "….the greatest collection of squalid criminals, misfits and looney tunes since the advent of the Third Reich…." – it seems He is blessing us with some snow – possibly for Christmas. It seems a fitting end to this Copenhagen nonsense.