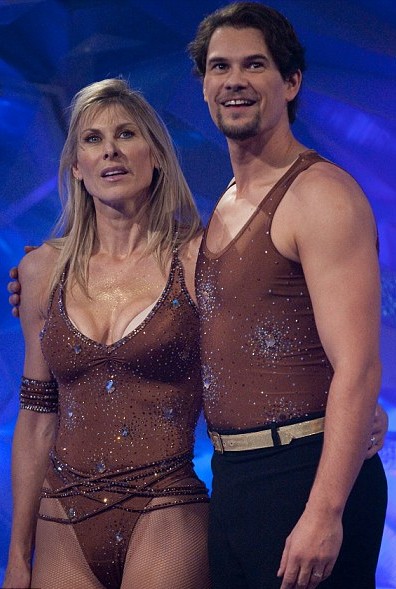 Today's British Gazette article is a story that is a week old, due mainly because we did not watch the TV programme at the time but a recording a week later. The subject of the article are the rude and extremely offensive comments made by one Mr. Jason Gardiner of one of this nation's fine sportswomen, Miss Sharron Davies, MBE.
The TV show "Dancing on Ice" is a fine example of a good family show. The basis of the show is that eleven celebrities are trained by former Olympians Jayne Torvill and Christopher Dean not only to skate on ice but to dance on ice – to a professional standard. On the show that was broadcast on Saturday, 30th January one of the celebrity contestants was fellow Olympian Miss Davies who was accompanied by the experienced ice dancer, Mr. Pavel Aubrecht.
Miss Davies acquitted herself admirably and in the interview afterwards admitted that she had dislocated her shoulder in training during the week. Clearly then Miss Sharron Davies not only showed great skill and grace upon the rink, but courage as well.
Were these achievements reflected in the comments of the judges?
Well most assuredly not in one case. This was one Mr. Jason Gardiner.
Gardiner shocked his fellow judges and the audience (who quickly and volubly showed their disgust) by telling Miss Davies:
"You look like faecal matter that won't flush, that goes around and around but doesn't go anywhere."
Clearly, Gardiner is a foul mouthed, offensive lout.
It seems however that Gardiner "has form" as he told Mrs. Tana Ramsey, the wife of chef Mr. Gordon Ramsey that she was, "as sensuous as a frigid schoolmistress."
Clearly, it was a very great pity that Mr. Gordon Ramsey was not in striking distance at the time. Of course, had Mr. Ramsey had been in the proximity at the time it is unlikely that Gardiner would have made the comments. Oafs like him are generally cowards to boot – which is why they choose to insult ladies.
The main comment the British Gazette would like to make on this occasion would be to urge the ITV and the other programme makers not to employ Gardiner and vulgar louts like him. The British people know such louts exist but they do not want them to appear in their own living rooms – especially when young children are likely to be within earshot.