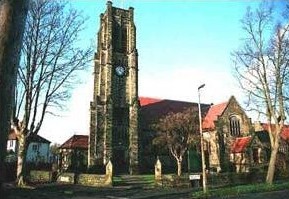 The above image is of St Andrew's United Reform Church in Roundhay, Leeds in the parliamentary constituency of Leeds North East. Tonight there is a "hustings" at which the candidates will be asked for their views. Organised by the politically correct "Churches Together" however freedom of speech will be controlled by the organisers. For a start, whilst they have chosen to invite four of the five candidates (Aqila Choudhry, Liberal Democrat; Celia Foote, Alliance for Green Socialism; Fabian Hamilton, Labour Party; Warren Hendon, UK Independence Party and Matthew Lobley, Conservative Party) they have decided NOT to invite Tom Redmond, the BNP candidate. To quote their website:
"The evening is organised by Churches Together in Roundhay and is aimed to promote the democratic decision making process. As the URC along with other churches is opposed to racism and have called upon Christians to oppose the BNP, the BNP's candidate has not been invited to take part."
The following quote describes most eloquently the error of the organisers ways:
- "If we don't believe in freedom of expression for people we despise, we don't believe in it at all." – Noam Chomsky
We rest our case.