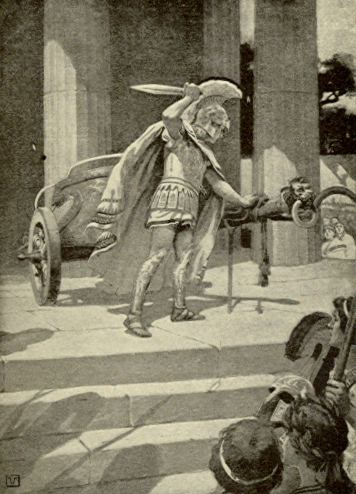 The above is an illustration of Alexander the Great cutting the Gordian Knot.
Following the (widely expected) inconclusive result on Thursday, the British Gazette puts forward its own proposal to try and cut the "Gordian Knot" (the legend of Phrygian Gordium – no pun intended) that is electoral reform at Westminster.
It is this:
That the proposals of the three major parties (Conservative, Labour, Liberal Democrats) on electoral reform be ALL put forward being contained in a Bill put before parliament with all party support in the form of three separate schedules to the bill. That is to say that the Conservative proposals – which essentially comprise the redrawing of constituency boundaries to ensure equal populations and the continuance of First Past the Post – be contained in Schedule 1. The Labour proposals which essentially are the adoption of the Alternative Vote – be contained in Schedule 2. and the Liberal Democrat proposals – which essentially comprise the adoption of the Single Transferable Vote – be contained in Schedule 3.
Once through the parliamentary process the monarch should enact the legislation with the particular schedule to be enacted to be decided by the British People in a referendum.
This act, the Electoral Reform Act, 2010 would have the great advantage of being easily amendable. Were the British people to vote for a system which ultimately proved chaotic, the Act could contain a provision to enable the government of the day to lay a Statutory Instrument before parliament to change the system by putting forward a referendum to the British People to decide again on what schedule to use.