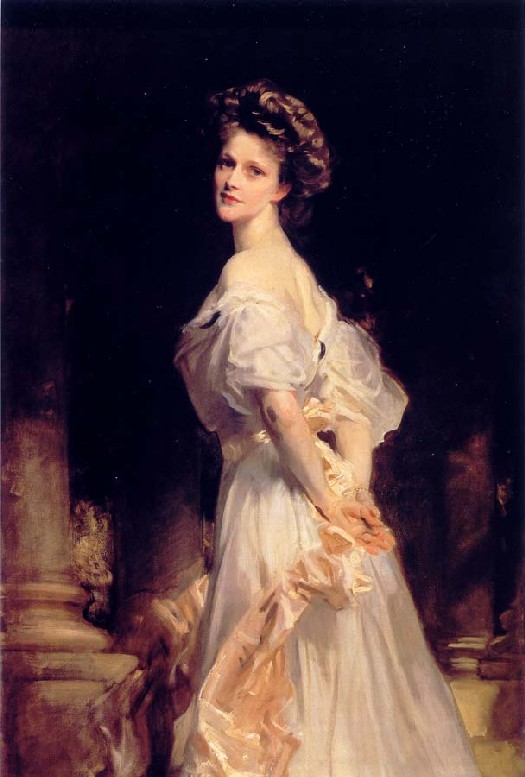 Above is the celebrated portrait of a youthful Nancy Astor by John Singer Sargent. It calls to mind the most famous of all anecdotes between Lady Astor and Winston Churchill:
Astor: "If you were my husband, I'd poison your tea…"
Churchill: "Madam, if you were my wife, I'd drink it!"
Her husband Waldorf Astor became the Conservative MP for Plymouth Sutton in 1910, but had to relinquish his seat when he succeeded as 2nd Viscount Astor. With Waldorf having to move 'upstairs' to the House of Lords, Nancy decided to stand in Plymouth Sutton in his place. She won the seat at the election in November 1919, beating her main rival, Liberal Isaac Foot – the father of Michael Foot, who of course went on to lead the Labour Party. She became the first woman MP to take her seat in the House of Commons. The first woman to be elected was the Countess Markievicz (Constance Gore-Booth) for Dublin St Patrick's in 1918, but as a member of Sinn Fein she had disqualified herself by refusing to take the oath. There was also the trifling matter that Constance was an inmate of Holloway Prison at the time! Nancy Astor remained MP for Plymouth Sutton for 26 years until the July 1945 which saw Bessie Braddock (below) elected. Another spat often attributed to Nancy Astor was actually between Churchill and Bessie Braddock, ardent socialist and fiery campaigner, nicknamed 'Battling Bessie', the Labour Member of Parliament for Liverpool Exchange between the 1945 election and her death in 1970.


Braddock: "Winston, you are drunk, and what's more you are disgustingly drunk."
Churchill: "Bessie, my dear, you are ugly, and what's more, you are disgustingly ugly. But tomorrow I shall be sober and you will still be disgustingly ugly."