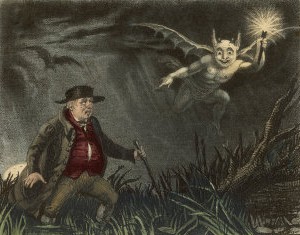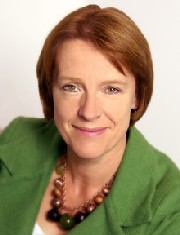 British Gazette readers may recall tales of the mythical "will-o'-the-wisp." The "will-o'-the-wisp" is the light that is "fairy fire" held in the hand of a goblin that maliciously leads lone travellers off the beaten path at night. As the traveller follows the goblin and its light through the marsh or bog, the fire is extinguished, leaving the traveller to his fate.

Well it seems that our dearly beloved minister for climate change, Caroline Spel(lwo)man seems to be taking well to this role to which she seems so aptly named! In February there were reports that the owners of the Drax Power station – provider of 7% of the UK's electricity – were prepared to halt the planned use of biomass to generate up to one eighth of the 4000 Mega watt power output. This would mean up to 72,000 tons of willow bushes a month! Millions had been spent converting the boiler feed systems to allow this to be burnt in a mixture seven eighths coal (of which only 50% is sourced in the UK) and one eighth biomass. Since the numbers of willow bushes in the UK are limited much is imported along with other biomass materials such as sunflower pressing residue, olive pressing residue, peanut shell husk and rape meal! The lunatics in charge of this mad scheme claim this will cut Drax's CO2 emissions by 15%. Of course what they don't mention is the size of the ENORMOUS increase of tar deposits in the flues and atmospheric tar emissions – that will settle on peoples' cars and washing for miles around!
Because off this the managers of the Drax power station naturally wanted more money to deal with the MAJOR pollution consequences of this madcap scheme! Dear Ed Miliband who couldn't understand what the fuss was about – for what could possibly be wrong with burning carbon neutral wood as opposed to that dirty evil CO2 laden coal? – baulked.
Thus in February things had stalled but now with the new incumbent all is set to proceed.
Of course the madness does not stop there for the lunatics then propose that the gases emitted should be compressed, cooled and at vast expense in terms of energy and money pumped into rock strata far below the North Sea! If Isambard Kingdom Brunel, FRS were here, he would suggest that they all be committed to the Bedlam asylum!
Thus it has come to pass that Caroline "will-o'-the-wisp" Spel(lwo)man and her colleagues in the Brokeback government will be leading the people off into the mire of poverty and ruin by following the faintly glimmering chimera that is the attempted reduction of CO2 emissions.
When the history of these times is written, few will escape the withering scorn of posterity's judgement.