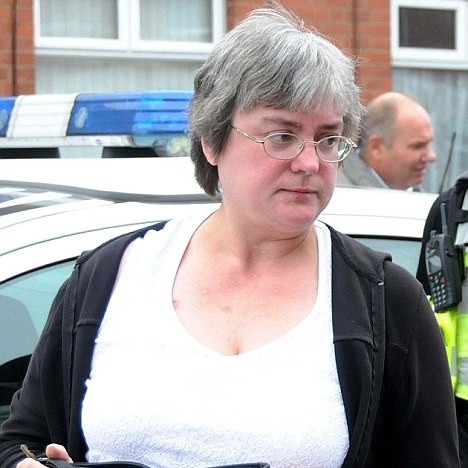 Above: Miss Bale being protected by the police.
The British public's over the top attitude to "animal rights" has again been sadly on show with angry customers of Royal Bank of Scotland, Miss Bale's employer calling for her to be sacked. Yesterday, a police officer drove Miss Bale, to the high street bank where she has worked for several years in nearby Rugby for a meeting with her boss.
She is expecting to be fired by the Royal Bank of Scotland after the video caused worldwide uproar and attracted thousands of death threats.
And yesterday customers pledged to desert the bank if she stays in the job – where she serves customers face-to-face on the cash desks.
Customer Kim Davis, 53, said: "I'd never be served by this despicable woman again. I have two cats myself and they're the most precious things in the world to me. Hopefully bosses will do the decent thing for cat lovers everywhere and usher her quietly out of the back door."
Customer Barry Morgan, 58, added: "I was disgusted when I saw what she had done. How can she be trusted anymore with my money? What if she takes a look around like she did in the video then drops it into the nearest bin? There's no way I'd ever be served by her again. She's brought shame on herself and the rest of the country."
Another furious customer, who wished to remain anonymous, said: " I'd already been thinking about changing banks because of their pithy interest rates. This is the last straw. When I saw the pictures of Mary Bale on the news I recognised her face straight away as the woman who works in my bank. It's shocking that somebody who you trust with your money and you think leads a respectable life can do something so careless when she thinks nobody's looking."
Speaking before yesterday's meeting with her boss, Miss Bale said she fears she will be sacked. "I've already been worried about losing my job because of the recession, but now it's an almost certainty," she said. "This just gets worse. It's already been a dreadful year for me with family problems. My dad's in hospital and now I'm going to lose my job. Members of the public see me everyday when I serve them. How can I hide away from that? There's nothing I can do. How will they react when they see me. This is going to be dreadful. My whole life will be turned upside-down."
However, one customer was willing to speak out in Mary's defence. Jean Thompson, 78, said: "Mary serves me every week and I really like her. She's lovely, warm and friendly. I really hope that Mary keeps her job. The only explanation I can think of is that she was worried that the cat might get run over on the road and wanted to keep it safe in the bin."
A spokesman for RBS said: "We take this matter very seriously but we are not in a position to comment any further."
British Gazette Comment: It is strongly to be hoped that the Royal Bank of Scotland do NOT dismiss Miss Bale. To do so would be to acquiesce to the demands of the mob. The British gazette is however of the opinion that RBS may well consider that Miss Bale be offered a position at one of the bank's call centres. This may well involve a move. Given Miss Bale's new found notoriety and the vicious and vindictive nature of animal rights fanatics, this may well be propitious.