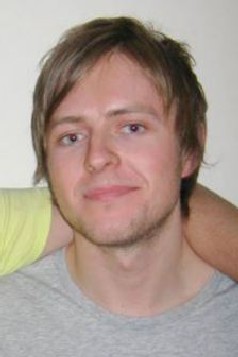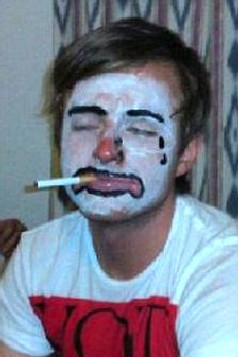 Above are the two faces of Mr. Peter Lowery of Sunderland in County Durham (historic boundaries). On the left we suppose is his sensible face and on the right, his clown face. At this present moment in time Mr. Lowery appears to be donning the right hand visage for he has claimed to be the winner of EuroMillions draw number 348 of Friday 8th October and the prize of £113,019,926.
On his Facebook page, Mr Lowery posted this news at 10.30am on Saturday to his 256 friends: 'OMG!!! I've won the euro millions jackpot. This isn't a joke!!! I can't breathe!!'
This sparked mock requests for cash from friends, which were followed minutes later by another post from Mr Lowery claiming: 'Reet, i'm off out to buy a yacht and car. adios.'
Mr. Lowery has not however informed Camelot of his apparent good fortune!
Camelot however are still awaiting the real winner to contact them. On the delay, Mr. Andrew Carter of Camelot stated that the real winner may not realise they have won until later in the week. "Prize winners do not always come forward immediately after the draw, in our experience, these winners may still not be aware that they have won. Many players buy and check their tickets in a routine and it may not be until their next weekly shop that they find out."
British Gazette Comment 1: The British Gazette agrees with Mr. Carter. We ourselves have noted when standing in a queue at the shops how some people will hand over their lottery tickets to be scanned, followed by their play-slips for another exercise in futile hope.
At the risk however of being compared with a broken record (one wonders for how much longer this phrase will be understood) we would again wish to warn Camelot of the potential for theft here. A retired judge once commented about fraudsters thus: "A fraudster is often a very clever man. Some frauds are put together with an intricacy and degree of planning and organisation that is sometimes extraordinary. It is to be said that if this level of endeavour was directed towards an honest enterprise the fraudster would do very well, and not end up in prison."
The facts of the matter are these:
- If Mr Carter's suggestion turns out to be the case – that the winner will present their tickets to be scanned it is likely that the winning ticket is a "Lucky Dip" (numbers selected by the lottery terminal at the time of purchase). As time goes on it is increasingly likely that this is the case, for in those cases where the punter "plays" a set of numbers they can often "play" these repeatedly. In these circumstances the winner will recognise their numbers and will not need to have them scanned.
- The £113 million win has received much publicity. It is entirely possible that a dishonest shop assistant in a lottery retailer will have committed to memory all seven numbers of the draw. Were such a thief to be handed the winning ticket by the winner they would recognise the ticket to be the wining ticket. They would almost certainly look for the letters "LD" which indicates "Lucky Dip".
At this point many readers may well ask, "All this effort on the part of a shop assistant for the vastly remote chance that the actual winner will come in? Be realistic British Gazette!" Au contrair, mon amie. Such a dishonest shop assistant will have set out previously on their criminal endeavour for their targets (their victims) are the not infrequent number of people who present winning tickets to lottery retailers. To put this into perspective, herewith the results of the EuroMillions draw number 348 of Friday 8th October
Combinations – U.K. Winners – Amount per winner
Match 5 + 2 Stars – 1 – £113,019,926.00
Match 5 + 1 Star – 9 – £521,015.20
Match 5 – 19 – £70,036.90
Match 4 + 2 Stars – 208 – £4,569.70
Match 4 + 1 Star – 3,048 – £207.80
Match 4 – 4,702 – £94.30
Match 3 + 2 Stars – 10,046 – £63.00
Match 3 + 1 Star – 146,482 – £22.00
Match 2 + 2 Stars – 146,825 - £18.90
Match 3 – 231,075 – £12.80
Match 1 + 2 Stars – 803,206 – £7.90
Match 2 + 1 Star – 2,206,850 – £6.80
As can bee seen, 10,046 people won £63.00, 4,702 people won £94.30 and 3,048 people won £207.80. These amounts of money are tempting pickings to such a thief. Assuming the punter has not memorised the numbers on their ticket the thief may at that point advise them that the ticket had not won or had won a smaller amount say, £6.80. They may hand them £6.80 from the till and place the ticket in the till for subsequent sending off the Camelot. At some point the thief would put £6.80 of their own money into the till and retrieve the winning ticket into their possession. They would then in such cases claim the money at another lottery retailer. In cases where they may be in possession of a ticket in excess of £500 they may either make an application themselves via a Post Office or seek an accomplice to claim on their behalf.
Were the £113 million to come up they would likely quit their job shortly after and seek employment elsewhere. At a point near the 180 day limit (Wednesday 6th April, 2011), they would come forward and claim the prize.
It is to be hoped that Camelot have some very rigorous validation procedures.
British Gazette Comment 2: Should not we be reporting upon what such as David Cameron is doing and not the clownish antics of Mr Lowery?
Why bother with such as Cameron when he seems to be happy with the situation where over two thirds of the government of this country is carried on in Brussels and the remaining one third is shared between the regional capitals of Cardiff, Edinburgh and London?