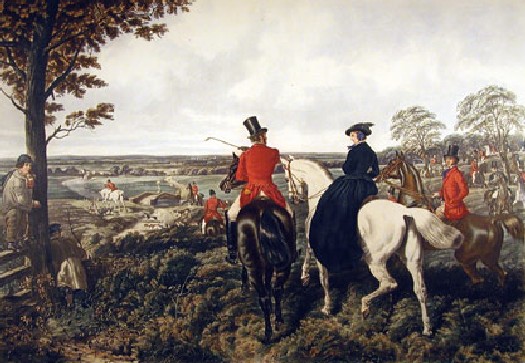 The above is J. F. Herring's "The Start."
Yesterday, the winner of EuroMillions draw number 348 of Friday 8th October came forward and claimed the prize of £113,019,926.
When the winner contacted Camelot immediately sent its head of security to validate the ticket. This was done and Camelot to wire transferred the winnings, by the close of business that day.
Camelot state that for now the winner wishes to remain anonymous but is considering whether or not to go public.
According to the Daily Telegraph, Mark Borkowski, a public relations expert, urged the winner to remain anonymous if they could. "Of course winning all that money is fantastic, but it can be a curse and you learn some pretty hard lessons very quickly. It's not just the deluge of begging letters you receive if you go public, it's the new best friends, and the pressure."
The British Gazette takes precisely the opposite view. We agree with Mr Borkowski as regards the hard lessons the winner will have to quickly learn. However, remaining anonymous will lead to a life of lonely deception. If the winner is what could be described as "an ordinary person" with a job, a mortgage, wife, children of school age it will be virtually impossible to remain anonymous whilst enjoying their new found wealth. Remaining anonymous means keeping the win a secret. The first rule of secrecy is this: The fewer people who know, the better. Anyone with school age children will know the basic impossibility of children keeping secrets. The winner will be rapidly coming to the conclusion that anonymity in these circumstances will mean not telling their family. This course of action will only benefit divorce lawyers!
Of course. If the winner is single, not in a relationship and has no children then the prospects of remaining anonymous improve remarkably. However, it will mean that they will have to move a long way from the area where they are known. It will also mean concocting various tales to answer the questions that people may ask as a part of ordinary social conversation, such as, "What do you do?" Answering "Retired" will lead to, "What did you do?" If you are standing next to your Rolls Royce Phantom and give a truthful answer such as " a fork lift truck driver" this will automatically lead down a path the winner will not want to go. Answering such as "a barrister" would be a stupid thing for the average fork lift truck driver to do as they will be very hard pressed to keep up such a charade.
To give the reader some idea as to the winner's potential new income, herewith some figures:
Were the winner to put £13,019,926 aside for such as new house, furniture, cars &c. and invest the remaining £110,000,000 in a portfolio of U.K. income growth investment trusts, the yield will be in the region of 4.75% This will produce a gross dividend income of £5,225,000 per annum. For ease of calculation, let us divide this in half as the winner will now be a 50% tax payer and ignore that fraction of their income taxed at the lower rates. This will mean their net income after tax will be £2,612,500 per annum or £217,708 per month or £50,240 per week! It is therefore highly likely that the winner will now be able to receive an income after tax in one week more than they earned in one year before tax.
After mature consideration the British Gazette hopes the winner – for their sake – will come forward to endure their "fifteen minutes of fame." If they don't, the winner should be in no doubt that the Sun Newspaper will be hunting them down like a fox.
If the winner however is single and has no close family, and cannot face the publicity for they may have a past which will cause them to become the object of censure in the tabloid press the British Gazette offers them an alternative strategy to enable them to remain anonymous, thus:
- Quit your job.
- Move to a city a long way from your home.
- Buy a nice house but of modest proportions in a nice suburb.
- Buy an anonymous looking car such as a silver grey or black C class Mercedes – no Rolls Royces or Bentleys.
- Live on two weeks dividend income of around £100,480 per annum after tax.
- Give the remaining £2,512,020 anonymously to charities of their choosing. The British Gazette would recommend such as MacMillan Cancer Relief, the Royal National Lifeboat Institution, the Royal British Legion, the British Heart Foundation and Imperial Cancer Research. There are of course many more worthy causes. Giving large amounts of money to charities is a very easy thing to do. Firstly the winner should look in the Yellow Pages for a solicitor that deals with Probate. Such solicitors are well used to making donations on behalf of clients to charities. All they have to do is to send a cheque made payable to the solicitor with the instruction of which charity to endow. The solicitor will pay the money into his client account and then pay the charity less their fee – which is likely to be very modest. The charity will write to the solicitor asking them to pass on their thanks to the donor.