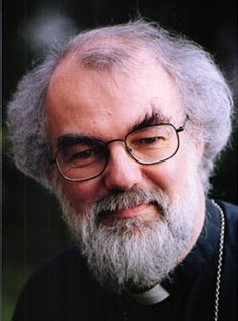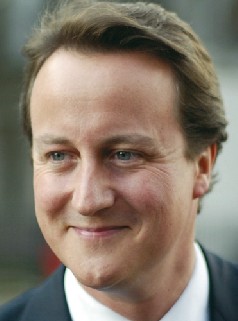 Above left is Dr Rowan Williams, the Archbishop of Canterbury. Dr. Williams, the leader of the Anglican church has, unsurprisingly as he occupies the post of the country's most senior cleric, criticised the man (above right) who plans to reintroduce slavery. But then of course Mr Cameron is the leader of the Conservative Party.
Readers may well consider that British Gazette is over-reacting somewhat but we would disagree. True, Cameron does not propose to re-introduce manacles and whips but such items are at the extreme end of slavery. Basically, slavery can be defined as: A legal requirement served upon a person to perform compulsory unpaid work.
This government's plans for the long term unemployed to perform 30 hours manual labour per week or face loosing their state benefits for at least three months is just that. For those who may consider that the continued payment of state benefits will in effect become a wage are morally and legally in the wrong.
Mr Ian Duncan-Smith said his plans were designed to reduce welfare dependency and make work pay. "One thing we can do is pull people in to do one or two weeks' manual work – turn up at 9am and leave at 5pm, to give people a sense of work…."
A sense of work? Well Duncan-Smith certainly gets the prize for the most euphemistic description of slave labour yet. Other Tories equally miss the point.
Mr. William Hague stated: "What we are talking about here is people who have not been used to working having both the opportunity and perhaps a bit more of a push as well, to experience the workplace from time to time and again the vast majority of people in Britain will think that's the right thing to do."
The British Gazette does not disagree with Hague's statement but we would point out that Hague is missing one very important point: Payment. If you are going to give someone work then in a civilised country you will give them money for performing the said work. This money is called a wage.
British Gazette suggestion: If the Tories intend to proceed with this idea then what is required is to pay these people the National Minimum Wage whilst they are so employed. Obviously, whilst they are receiving this wage their state benefits will cease. They will during this period be employed by the state.
For the reader's information, from October 2010, the National Minimum Wage is:
* £5.93 an hour for workers aged 21 and over
* £4.92 an hour for workers aged 18 to 20
* £3.64 an hour for workers aged 16 to 17
Clearly then these are the rates at which such people should be paid.
Mr. Danny Alexander, the Lib Dem Chief Secretary to the Treasury, said: "The purpose is emphatically not to punish and it's not to humiliate. It is to support and encourage and help people to get the skills to deal with the barriers they face to going into work."
British Gazette comment: Mr Alexander you are wrong. To do otherwise than pay these people the National Minimum Wage for such work is literally to punish the unemployed as what they are in effect being given is a Community Service Order. A Community Service Order which takes the form of compulsory unpaid work is a PUNISHMENT handed down by the criminal justice system on those convicted of a criminal offence.
Of course what really demonstrates what a nasty, vindictive, mean spirited and incompetent shower we have as a government of the vassal state in which we live is that these proposals if implemented will likely be challenged under the Human Rights Act and may well go up to the European Court of Human Rights. Should this take place readers will no doubt be expecting the British Gazette to champion the "national cause" as no doubt the Eurosceptic tabloids will be doing. Well it won't. The British Gazette's attitude towards such a scenario is simple: If you hand over the government of the country to a foreign power, what do you expect?