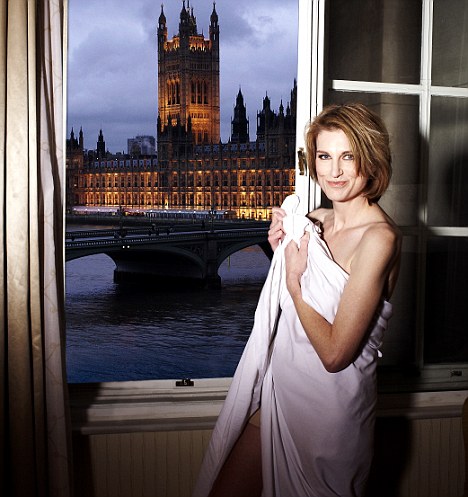 Sally Bercow as she appears in the es magazine 4th February 2011. Picture taken at the London Marriott Hotel, County Hall. Courtesy of: Amelia Troubridge / London Evening Standard, ES Magazine
Romans 10 v.15 And how shall they preach, except they be sent? as it is written, How beautiful are the feet of them that preach the gospel of peace, and bring glad tidings of good things!
Mrs Sally Bercow, the wife of our esteemed Speaker it seems has been taken to task by the tabloids for posing in a bed-sheet. Clearly this attractive lady is somewhat of a self publicist.
Romans 10:15, has been cited as Mrs Bercow it seems is shy of having her feet photographed.
The question is this: Does her conduct bring shame upon the institution of Parliament?
Before answering this question it is necessary to examine the institution that the tabloids condemn her for demeaning. So let us examine this institution.
What we have is an institution that for nearly forty years has presided over the handing over of the powers of the Crown to a foreign power. This in direct contravention of the treaty that set it and the oaths that the monarch's ministers take as Privy Councillors. These characters are TRAITORS.
What then can Mrs Bercow demean by her photo-shot?
Clearly then not this Parliament!