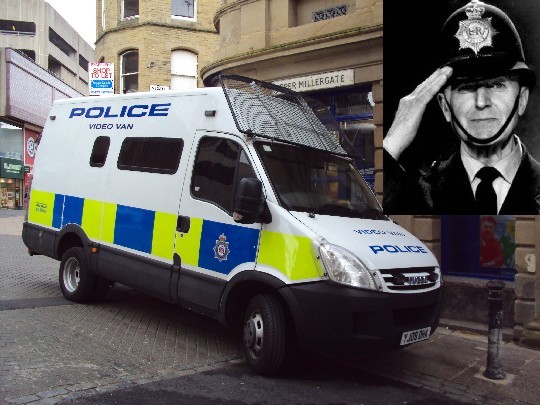 The days of the friendly "copper" as portrayed by the actor Jack Warner (insert above) in the BBC TV drama "Dixon of Dock Green" is long gone.
The latest evidence showing how far the country has travelled down the road of authoritarianism is the edict issued by Warwickshire police chiefs have advised officers against saying "Evenin'all."
Why? British Gazette readers will ask.
To avoid cultural confusion appears to be the answer!
It has been decided that the word "Evening" is a "subjective term", which does not necessarily mean the same across cultures and nationalities.
Other edicts included:
- the use the term "gay" and NOT "homosexual" – to avoid giving offence.
- the use of the word "heterosexual" NOT "straight" – to avoid giving offence.
- NOT to use the word "child" as is said to imply inexperience and may offend.
- NOT to use the word "youngster" as is said to imply inexperience and may offend.
British Gazette readers may well ask: Why political correctness?
The answer is in one word: Control. If you are building the foundations of a police state the most obvious requirements is to have a compliant police force – sorry service. It is the police after all who are the enforcers of law and order. In the halcyon days of Dixon of Dock Green life was much simpler and straightforward. A criminal was a person who committed such acts as breaking into one's house and making off with some of the contents. Today, whilst this sort of activity remains unlawful there are a growing list of offences that never existed in the 1950s. Many of these offences exist to control the population, not to stop them from committing acts that are universally recognised as criminal. Such a totalitarian state of affairs cannot be achieved overnight, which is why political correctness is so necessary for the Quisling Europhiles who masquerade as the government of this formerly sovereign country.
Today we have a new breed of police officer. Last night on the BBC programme, "Motorway Cops" one officer opined the sad lack of ID carried by one minor miscreant. This in fact is an indicator of a possible method of lawful and peaceful protest against the intrusive nanny state which is 21st century Britain.
Today, the movements of the people are monitored and recorded on a scale far greater than ever before. This does not only include the omnipresent CCTV cameras but electronic means of recording what the citizen does and where and when they do it. If you use a credit card and/or a debit card, your location will be recorded. If you have one on your person the authorities can access the data to ascertain the identity of the holder.
Today – we do not know what tomorrow may bring – it perfectly lawful not to carry any ID upon one's person. Therefore, if one was to adopt a policy of not carrying any form of identification and let us say notes and coin in order to make purchases, one would be making a minor attack on the nanny state for cash purchases are not recorded on the chip and pin machines. Of course, if you were stopped by a police officer and asked for your identity, you would of course tell them. However, you might find yourself taken to a police station and finger-printed (and DNA checked?) to see if you were on their database of known offenders. Of course, if you were not on their database before, you would be subsequently.