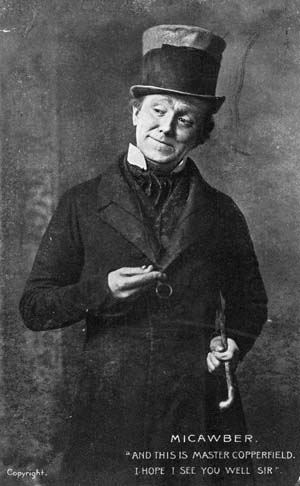 Above, a scan of a postcard of the actor Bransby Williams as Wilkins Micawber – circa 1900.
That eternal optimist, Wilkins Micawber in Charles Dickens' David Copperfield was noted for stating that, "…..something will always turn up….."
By their persistence with the lunatic policy of prevarication over replacements for the aging nuclear power plants and seeming reliance on wind turbines, one can only presume that Messrs Cameron & Clegg are adopting Micawber's advice. By advocating that Britain "takes the lead" on "de-carbonising the economy" another of Micawber's statements comes to mind:
"Welcome poverty!..Welcome misery, welcome houselessness, welcome hunger, rags, tempest, and beggary! Mutual confidence will sustain us to the end!"
Nothing else in David Copperfield describes better the inevitable result of their planned recklessness.
The trouble is that it will not be Messrs. Cameron & Clegg who loose their savings, homes and jobs. It will be their constituents.
Cameron & Clegg, their friends and relatives will of course have made millions out of the various CO2 scams with the tax free returns stashed away in banks in numerous tax havens.