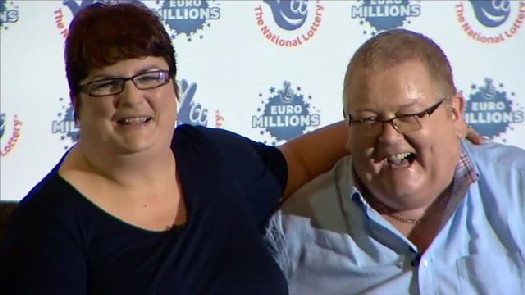 Above are Mr and Mrs Weir of Largs in Ayrshire, the winners of the £161,653,000 (€185 million) jackpot in the Euromillions Draw number 397 of Tuesday 12th July, 2011.
During the press conference where the happy couple were introduced to the world, Mr Weir quoted Bill Gates of Microsoft; "With great wealth comes great responsibility."
This augers well for the future. The British Gazette considers that the British People can be thankful for two things so far as this draw is concerned:
1. That the sum was won by this Scottish couple and not from elsewhere in the EU – meaning the UK will receive the benefit.
2. Mr and Mrs Weir are apparently a sensible couple as judging from their comments that after taking the professional advice offered by specialists retained by Camelot, they will see to it that their family are well provided for and that it is a possibility that a charitable trust will be set up.
The British Gazette extends its warmest congratulations to Mr & Mrs Weir and hopes that their win will bring them, their son and their daughter, the happy times they are hoping for.