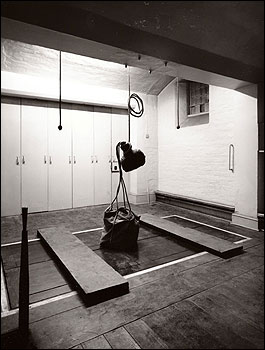 Above, the execution chamber at HM Prison, Strangeways, Manchester.
It appears, thanks to the interest shown by members of the British public that the business leaders if the House of Commons will schedule a debate on the restoration of the death penalty in the not too far distant future.
The result is of course a foregone conclusion. The result: the death penalty will not be restored. This will be for the following reasons:
1. Most MPs are opposed.
2. Not having the death penalty as a punishment for ANY crime however heinous is now a condition of the European Convention of Human Rights and adherence to these terms is a requirement of the Treaty of Lisbon. Therefore, whilst the country remains (unlawfully) bound by this treaty, no restoration can take place.
3. The three major parties are all opposed to the UK leaving the European Union.