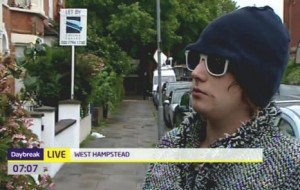 The British Gazette would draw its readers attention to the Daily Mail article, a link to which is at the bottom of this article.
It deals with the plight of Dr. and Mrs Cockerell, a couple who have found that their home has been taken over by squatters. That Mrs. Cockerell is heavily pregnant only adds to the couple's woes.
The Daily Mail lambasts in its typical style the outrageous situation of the law in England governing squatting. The laxity of these laws now have been made known via the internet across Europe and hordes of East Europeans are flooding into the country taking advantage of this ludicrous situation. Families across – in the main, the Greater London area – have found that the family home has been broken into, that the Police won't and can't help, forcing the families to spend thousands of £ in civil actions to obtain an eviction order, only to find that there is nobody to award costs to (thus forcing them to pay the whole costs of the action) and when their homes are recovered they find them trashed landing them with a repair and replacement bill for thousands of £ more.
In any country that is governed by politicians who are anything other than the lying treasonous coterie of scum that govern us, SOMETHING WOULD MOST DEFINITELY BE DONE.
However, Dear Reader, rest assured that NOTHING WILL BE DONE by the scum who govern us.
Why? They know full well that they cannot do this for they have handed over the power to do this. Were they to criminalise the act of squatting giving the Police immediate power to force an entry into any property subject to a complaint by the lawful owner that the property is a squat, the squatters would immediately appeal the action and their appeal WOULD BE SUCCESSFUL for it would be deemed by the judges – either in this country or in Europe – that a breach of their human rights has occurred.
Since the scum that govern us ARE NOR PREPARED – they have said so time and time enough – to RESTORE LAWFUL GOVERNMENT to this country by leaving the never to be sufficiently damned abomination that is the European Union then they can do nothing but wring their hands like the impotent eunuchs they are.
The problem is that the Daily Mail is very good at publicising such outrages but it WILL NOT TAKE THE NEXT LOGICAL STEP OF ADVOCATING THE UK LEAVE THE EU.
http://www.dailymail.co.uk/news/article-2035699/Squatters-shot-wife-comes-Doctor-1m-home-taken-spongers-hits-law.html