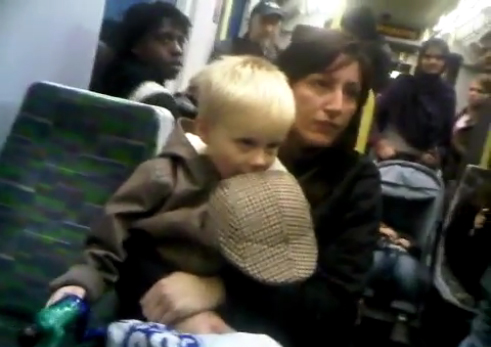 The title of our article of the 3rd December – Miss Emma West: Foul mouthed xenophobe or Political prisoner? – questioned the status of Miss Emma West. The article went on to state that we would know the answer to this question by today, Tuesday 6th December, 2011 – the date of her next appearance in court.
Well, Miss West has appeared in Croydon Magistrates Court and we can therefore now answer the question categorically: Miss Emma West is both. A foul mouthed xenophobe (albeit now a remorseful one) AND a political prisoner.
Were we living in an ordinary democracy and not a corrupted one heading rapidly down the bleak path towards "zero tolerance" totalitarianism, the magistrates would have dealt with Miss West there and then.
To quote from the Public Order Act, 1986 itself: Clause 4 of Section 4A states: "A person guilty of an offence under this section is liable on summary conviction to imprisonment for a term not exceeding 6 months or a fine not exceeding level 5 on the standard scale or both."
The statute clearly gave Croydon Magistrates wholly and completely adequate powers to deal with this as a summary offence. As stated in our previous article, Miss West had at the time of her court appearance spent the time in custody that equalled a two week gaol sentence (50% remission).
Rather than decide to deal with the matter there and then, the bench of lay magistrates decided that they had insufficient sentencing powers and have remanded Miss West back to gaol to appear before them – this time by video link from gaol – on the 3rd January 2012.
A bail application was made by Miss West's solicitor David Ewings, but it was denied by the magistrate Ian McNeal to protect her safety. This of course was not the real reason for it would have been relatively straight forward to require Miss West to reside at a bail hostel outside the area and under an another identity.
This of course will mean that not only will Miss West miss Christmas but her two children will also as they will now be forced to spend Christmas in a strange home of some foster parents.
And all this for an abusive rant on a tram!
Clearly those administering the quasi judicial process – we use the qualification "quasi" as of course the judiciary along with the government and Parliament have for long transformed themselves into illegal operatives through placing the nation under the jurisdiction of a foreign power – have decided that Miss West must be made an example of and must suffer a period of incarceration longer than six months for her offensive language.
This means that by the 3rd January, Miss West will have been incarcerated for 35 days (equivalent to 70 days in gaol with 50% remission). Miss West's next appearance will not result in her case being heard – she will not be there – but linked by video from gaol – but it will either fix a date for her case to be heard in the Crown Court or fix a further date to appear again before the magistrates pending a date ultimately to be fixed. It could well be that Miss West will not have her case tried until the spring of next year.
Readers will of course have calculated that if Miss West is still in custody on St. David's Day, Thursday 1st March, 2012, she will have spent the equivalent time incarcerated as someone serving a 6 month sentence (50% remission).
This, in and of itself clearly identifies this country as a putative totalitarian state as one of the hallmarks of such is extreme and harsh punishment for what in tolerant democracies would be considered petty offences. The authorities attitude are summed up in their own phrase: "Zero Tolerance"