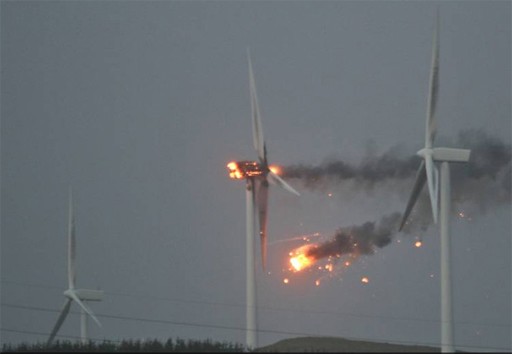 Today many of us have born the brunt of the gales and will have made a point of watched BBC 1's 6 O'clock news to find out about how everybody has been getting on – with the weather.
Whilst the Brussels Brainwashing Commissariat reported upon Glasgow's schools being closed and of a 165mph gust in the Cairngorms, they did not report upon a very significant event.
This was the destruction due to fire of one of the 15 wind turbines (above) at the Ardrossan wind farm in North Ayrshire. The fire was caused directly by the wind for if the wind is over a certain strength the clutching mechanism which keeps the blades from turning in too strong a wind fail, the turbine blades spin over the safe speed and the oil in the gearbox ignites.
Of course, the British Gazette has reported upon the fire danger inherent in the design of these ridiculous creations in our article Wind Turbines: bonfires-on-a-stick of 4th September, 2010.
The plain simple facts of the matter are these: onshore wind turbines are not only a very expensive method of generating electricity, they are wholly impractical. The only creations that are more ridiculous are offshore wind turbines. Of which that famous idiot Mr Huhne wants to construct thousands!
Of course, the BBC are not going to put such a report on the 6 O'clock news. It therefore falls to the British gazette to bring this news to the attention of the British People. Once again, Speaking the Truth unto the Nation.