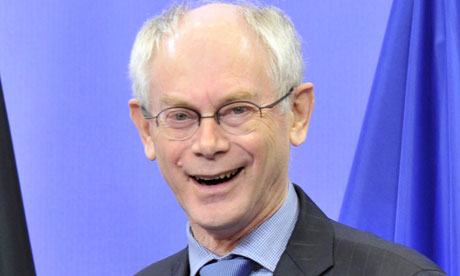 As his Empire stands on the precipice EU commission president Herman Van Rompuy has been busy posting out copies of The World Book of Happiness edited by Leo Bormans [Paperback ISBN: 9781554079308]. Naturally the man's actions have been subject to much mirth. Words such as "fiddling" "Rome" and "burns" will come to the minds of many. Anticipating the negative reaction Mr Van Rompuy states, "…I know the cynics will immediately dismiss these proposals as naïve…" But goes on to sate that "…Positive thinking is no longer for drifters, dreamers and the perpetually naïve…"
There are one or two things the British Gazette takes issue with. We hope Mr Van Rompuy has financed these presents from his own resources and not the hard pressed taxpayers of the EU. If not we would ask that he reimburse the EU taxpayer from his own considerable salary. The second thing is that positive thinking has never been just for drifters, dreamers and the perpetually naïve but for everyone.
In the spirit of seasonal goodwill the British Gazette would suggest to Mr Van Rompuy that if he really wants to make the people of the EU happy he should start by indicating that another conference should be called as soon as possible after the New Year holiday with the following agenda:
1. An organised withdrawal from the Eurozone and inter alia the EU (exit from the EU is automatic following exit from the Eurozone) and partial default of the Eurozone members in successive order of relative indebtedness.
2. Simultaneous application to join EFTA and acceptance from the EFTA states for these former EU members to join.
3. Simultaneous entry into the European Economic Area.
4. Subsequent application and acceptance from other EU members (including the UK) outside the Eurozone into EFTA.
5. Subsequent entry into the EEA of the above.
6. Formal termination of the EU as an entity.