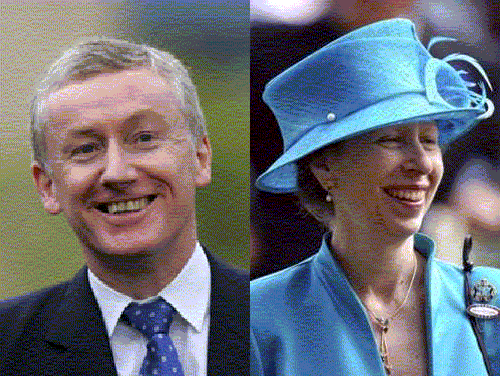 The gander in question is Frederick Anderson Goodwin, late of the order of Knights Bachelor. The goose is none other than Her Royal Highness The Princess Anne Elizabeth Alice Louise, Princess Royal, Royal Lady of the Most Noble Order of the Garter, Lady of the Most Ancient and Most Noble Order of the Thistle, Dame Grand Cross and Grand Master of the Royal Victorian Order, Dame Grand Cross of the Most Venerable Order of the Hospital of St John of Jerusalem.
The sauce is the different treatment each have received at the hands of the tawdry little cretins that masquerade as the government of this formerly sovereign country:
The Princess Royal "has form" – meaning that she's been in trouble with "the law" on more than one occasion!
In March 2001, she pleaded guilty to driving at 93 mph on a dual carriageway, while on her way to Hartpury College in Gloucestershire. She was fined £400 by Cheltenham Magistrate's Court, and had five points added to her driving licence. The following year, she was convicted of an offence under the Dangerous Dogs Act 1991, after she pleaded guilty to the charge that her dog, Dotty, attacked two boys while she and her husband were taking the dog for a walk in Windsor Great Park. She was fined £500 by Berkshire Magistrates' Court and ordered to give Dotty more training. Following this conviction she possessed a criminal record.
By contrast, Fred Goodwin has no criminal convictions whatsoever!