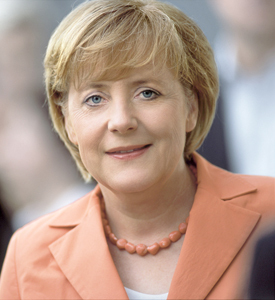 The lady in question can be said to be Frau Doktor Angela Merkel, but could equally be said to be Germany herself. The entity treating the lady badly is Greece.
British Gazette readers will be sadly very familiar with the slow motion train crash that is the Euro.
However with all the talk of fiscal deficits and so forth some of the most relevant facts of the matter are bypassed and completely ignored.
Greece's "cooking the books" upon its entry into the Euro is one such that in the opinion of the Editor of this organ deserves closer comment as it goes straight to the rotten heart of this never to be sufficiently damned abomination that is the European Union.
Greece's behaviour is best examined by an analogy: Dear Reader, please imagine the following scenario:
- Tomorrow, you are sitting at your desk or doing whatever you are normally doing when the postman delivers the mail. You go and collect the mail and open it. You read with very great surprise that an old school friend with whom you lost contact has died. The letter is from a solicitor mentioning that you have been mentioned in the will and are asked to contact them.
- You do so and discover that you old school friend died after all his family members had died and as a result the vast bulk of the £1 million estate has been left to charity. However they have left you £100,000. The solicitor explains to you that the legacy is free of Inheritance Tax as this is the only part of the deceased's estate that is not being left to charity and therefore no IHT is payable as the amount is well within the IHT threshold.
- Some weeks pass and eventually you receive a cheque for £100,000 drawn on the solicitor's client account. You then begin to wonder what to do with the money. You do not like the idea of putting the money on the stock market. You look at the interest rates being paid by your bank and building society and regard the rates as pathetic.
- You then receive a telephone call from a friend, a Mr Testicle – who arrived five years ago from Athens. They are wishing to set up in business and need a loan of £100,000. They ask if you would be prepared to lend them the money on an interest only basis with the friend's house put up as collateral.
- You want to help your friend so you meet them. They explain that they would be willing to borrow from you on a fixed rate interest only mortgage at the rate of 7% which your friend points out is much more than you can get from a bank or a building society.
-You agree to lend your friend the £100,000 on the terms they suggest – that their house is secured against the loan.
- The loan agreement is set up using your friend's solicitor, Messrs. Cameron, Clegg, Miliband & Co. Whose website has the tag line, "Legal advisors you can trust."
- Twelve months pass and you are hoping to receive the interest cheque of £7,000. You receive a letter through the post from Mr Clegg who advises you that his client is in financial difficulties and wishes to discuss a reduction of the £7,000 down to £2,000 and an additional delay of nine months.
- You are not happy! You approach another solicitor, Bennett & Co of Harlow who investigates the matter. Mr Bennett has some bad news for you.
Firstly, Messrs. Cameron, Clegg Miliband & Co are not solicitors but a limited liability partnership registered in Panama offering "legal services." As such they are not regulated in the UK and compensation cannot be obtained for their misrepresentations.
Secondly, your friend lied about aspects of his personal circumstances:
- The valuation report of the property was a forgery! The house was not worth £300,000 but £150,000 as it is at the end of the runway at Heathrow airport!
- The charge secured on his house against your loan is a second charge. There is already a first charge on the property for the interest only mortgage of £150,000 to the bank.
Mr Bennett explains that your friend (or should that now be ex-friend?) in the twelve months running their business acquired significant unsecured debts using various credit cards and the debt servicing costs now exceed his total income.
Mr Bennett explains that your friend is to be made bankrupt, that the bank will repossess the house and sell it at a repossession auction. Since you have a second charge you will only receive any money if the house sells for more than £150,000. Mr Bennett advised you that there is as much chance of this happening as there is of you winning the Euromillions jackpot three times in a row! This is because £150,000 represents the open market value when sold through an estate agent. Mr Bennett advised you that the house can be expected to fetch no more than £105,000. The bank is not worried about this prospect as they will have mortgage insurance that will pay out an additional £45,000 to make good their loss. Mr Bennett regrets to inform you that you are going to be left with nothing. Mr Bennett then advises you that you have his very great sympathy and because of the situation Mr Bennett is waiving his fee of £300 as he does not wish to rub salt into your financial wound.
Now you know how it feels to be German!