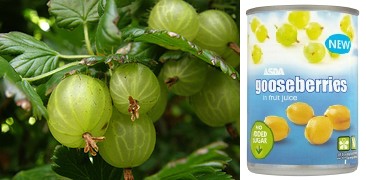 The world is going mad. Either that or I am.
Picked myself one and a quarter pounds (that is 567.5 grams Derek) of nice fresh gooseberries from the gooseberry bush this afternoon. Being a Yorkshireman, I did a quick check on the internet to find out how much I have saved myself by not having to buy said gooseberries. Found out that ASDA sell a 10 1/4 ounce (290 grams Derek) tin at £1.16 – Product Code: 1937640. Two bits of dietary Information are added: No Added Sugar. AND: Suitable for Vegetarians.
Excuse me but what type of gooseberry on this particular planet is not suitable for vegetarians? A call to ASDA Customer Service provided the answer: "We have to put such information on the product." the Customer Services Rep said, continuing, "Would you believe that we have to state contains nuts on every packet of peanuts, for would you believe it, there are people who would otherwise complain that they bought a packet of peanuts and did not realise that the packet contained nuts."
Sadly, yes. Is the answer. Of course these are the people who also believe that CO2 is a danger to the planet. Some of them are called Miliband.
The Budget Minister in the Spanish Parliament this morning stated: "There is no money to pay for public services."
British Gazette comment: The end can not be long in coming now.