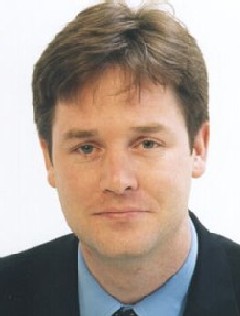 Above is the unfortunate Mr Clegg. Unfortunate for not only is he a Traitor, he is also a Twerp.
Mr Clegg (along with Mr Cameron, Mr Hague, Mr Osborne, Mr Cable, Mr Moore, Mr Alexander and Miss Chloe Smith) has committed Treason by seeking to change the Declaration and Bill of Rights. British Gazette readers will find a PDF file below:
In the explanatory notes to the Bill, prepared by the Cabinet Office, the Deputy Prime Minister has made the following statement under section 19(1)(a) of the Human Rights Act 1998:
"In my view the provisions of the Succession to the Crown Bill are compatible with the [European] Convention [of Human] rights."
Mr Clegg of course is completely wrong!!!!! The Succession to the Crown Bill is NOT compatible with the [European] Convention rights. This is due to the following clause:
"In determining the succession to the Crown, the gender of a person born after 28 October 2011 does not give that person, or that person's descendants, precedence over any other person (whenever born)."
The European judges will ask, Why this arbitrary date?
Mr Clegg's answer will doubtless be: "To ensure that the provisions of the Bill when it becomes law (an Act) are not retrospective?"
The European judges will then ask, "Why not?"
Mr Clegg's answer will doubtless be: "Because retrospective legislation is not a British tradition."
The European judges will then state, "But it is a European tradition. Case dismissed!"
The simple fact is that Clegg and his treasonous fellow conspirators have sought a half way house. They want to introduce the concept of gender neutral succession – because it is part of their obsession with equality and zero tolerance of discrimination – but do not want to change the law in relation to the Queen's sons and daughter. You see they do not wish to alter the places in the line of succession of the two younger sons of the Queen, the Duke of York and the Earl of Wessex and their offspring, but merely wish to change things for those not yet born; the Duchess of Cambridge's unborn child. This places the Princess Royal behind her youngest brother the Earl of Wessex his two children, Lady Louise Windsor, born 8th November 2003 and James, Viscount Severn, born 17th December 2007.
As you can see, Mr Clegg's Bill is a dog's breakfast as it will be seen by the European judges as perpetuating discrimination against Lady Louise who is placed behind her younger brother.
But then, as the British Gazette has stated before, and will doubtless state again: If you hand the government of your country over to a foreign power, what do you expect?