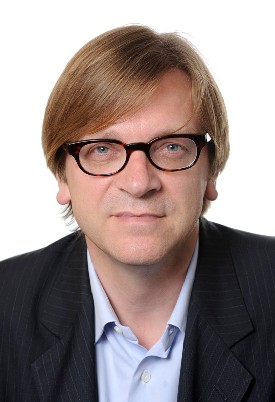 Doubtless Dear Reader, you will either be swallowing some blood pressure pills or suffering from an apoplectic fit!!!!!!!!!!!!!!!!!!!!!!!!!!!!!!!!!!! Sorry!!!!!!!!!!!!!!!!!!!!!!!!!!!!!!!!!!!!!!
Do not concern yourself however – the British Gazette has not suddenly become a supporter of that never to be sufficiently damned abomination that is the European Union.
No, the "we agree with Guy" – taken from that famous debate where Cameron and Miliband agreed with Clegg – refers to Mr Verhofstadt's (justified) scepticism about Cameron's motives for making the speech he has made and also the statement about a referendum on the subject of the EU.
Mr Verhofstadt is of course an extremely experienced politician. He served as the Prime Minister of Belgium from 1999 to 2008. Since 2009 he has served as a Member of the European Parliament where he is the leader of the Group of the Alliance of Liberals and Democrats for Europe (ALDE) and founded the inter-parliamentarian federalist Spinelli Group.
Mr Verhofstadt is nobody's fool and certainly was not born yesterday!!! As a result he has seen straight through Cameron's ploy.
He knows, as does this organ's readers, that Cameron's motivation and reasons for making the speech and for appearing to offer a referendum – after the next election of course – is to seek to stem the flood tide of votes and support that is going from the Tories to UKIP.
Conservative Central Office are very worried (and justifiably so) that their members and voters are drifting away from them to UKIP. The Tories are dreading May 2014 – the date of the Euro elections. It must be keeping them, awake at night! You see there is another date the Tories are dreading: 1st January, 2014. On that day the floodgates will be opened to allow all the citizens of Bulgaria and Rumania who want to, to come and live and claim benefits here in the UK. And there is absolutely nothing – short of restoring lawful government and to cease committing High Treason – that the Tories can do about it!!!!!!!!!!!
Conservative Central Office are expecting the most awful and abject results for their candidates in May 2014. UKIP are extremely optimistic!