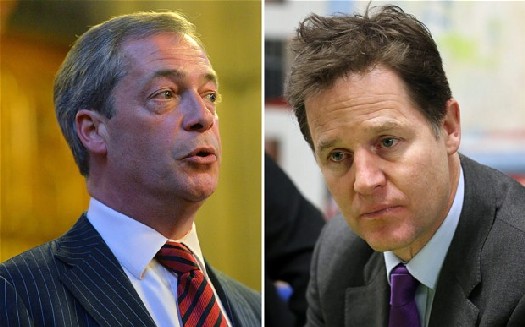 British Gazette readers will no doubt be delighted that Mr. Clegg has decided to pick a fight with Nigel Farage. He will debate Britain's place in Europe with Farage at 7pm on Wednesday 2nd April (on BBC2).
Of UKIP Farage Clegg said: "An ungenerous, backwards-looking politics has emerged in Britain," Clegg said. "The politics of blame has found an acceptable face: it wears a big smile and looks like someone you could have a pint with down the pub. So I'm drawing a line in the sand. I am going to defend the tolerant and modern Britain we love."
This is of course a great compliment. Clegg cannot seek a debate with Farage and at the same time dismiss UKIP as a here today gone tomorrow wonder. But then, Clegg is wanting to raise UKIP's profile as he sees UKIP taking votes from the Tories. Clegg knows the Lib Dems are in for a thrashing at the next election. Of course Clegg's game plan is survival. Unlike the two large parties, Clegg is not planning on a victory. The most he can hope for is to hold the balance of power.
Of course since over three quarters of the laws affecting this former sovereign state are made in Brussels and Strasbourg, the arguments are moot.
So what should British Gazette readers hope for at the next election. That UKIP will take enough votes from the Tories to bring about either a Lib-Lab coalition of a Labour government. The one thing UKIP will have achieved is to stop the "In-Out" referendum on the UK's membership of the EU that would follow a Tory victory.
"Hang on a minute!!!!!!!!!!!" we hear you ask. "Don't you want an In/Out referendum?"
"No." is our answer.
"Why forever not!!!!!!!"
Because we (the Eurorealists) would loose. In such a referendum the Yes (to stay in) campaign would be backed up by the BBC and many major foreign companies. The British electorate do not like the EU. However they would for the most part vote to stay in as they would fear for their jobs and their mortgages. In such a referendum Nigel Farage would be portrayed by the BBC as campaigning with Nick Griffin and Arthur Scargill.
That fact of the matter is this: UK membership of the EU is unlawful. Do not allow the criminals the chance to seek to legitimate it.