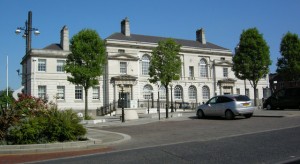 Above, Rotherham Town Hall – which is on Moorgate Street. The political pundits had expected UKIP to do well in yesterday's elections, but the news that UKIP have secured ten council seats from Labour in one of their strongholds, Rotherham is a shock. Traditionally, it could be said that Labour's majorities in the wards of Rotherham were not so much fortified but moated and castleated!
Deep gloom will have pervaded Labour HQ. Mr Miliband will be fretting.
If the clouds of despond are said to be hovering over the Labour HQ, the shadows of doom are covering Conservative Central Office. The Tories will now be worried (and with very good reason) about their prospects of retaining Newark at the forthcoming by-election on Thursday 5th June, 2014. Mr Cameron will of course be wholly and uncomfortably aware that whilst the poll takes place on the Thursday, the results will be announced in the early hours of Friday 6th June, 2014 – the 70th anniversary of the "D Day" landings! A victory for UKIP which sends the excellent Roger Helmer to Westminster is not impossible.
Perhaps the greatest affect however of these results will be in Scotland. Alex Salmond knows well the attraction many Scottish voters have for the EU and you can bet your bottom dollar together with the bottom dollar of your nearest and dearest that Salmond will use this to his electoral advantage. The irony is that UKIP may well win in England but could as a result, loose Scotland.