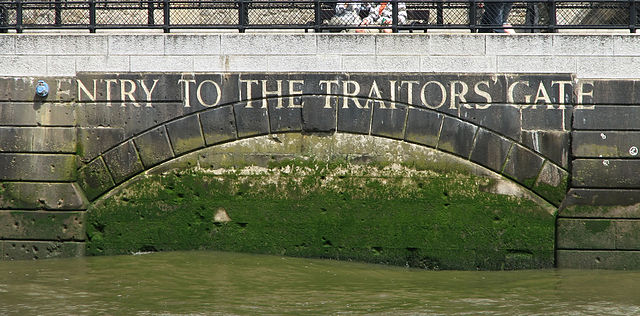 Today's article has been penned by the Patriot, Clive Eastern.
British Gazette comment: As readers know, this organ always likes to head up an article with an image. Given the contents of Clive's article, we thought a photograph of Traitors' Gate was the most appropriate! Readers will not fail to notice that it has been blocked up!!!
Under the Nice treaty, any initiative/prospective laws or directives from the EU in the areas listed below could only be passed by " Unanimity."
We can VETO EU legislation not in our National interests. So, Parliament at Westminster retains National Sovereignty in these areas.
But the LibLabCons, Cameron in particular, have not made this clear to the Nation: WHY???
From 1st November 2014 under the LISBON TREATY, the right of parliament to legislate in these listed areas will be removed. The EU can pass its own legislation by " qualified majority voting " (QMV).
We will not be able to veto anything not in our National interest. Sovereignty gone !
There will be a mechanism allowing " transitional arrangements " up to March 2017 ONLY.
THIS is where Cameron is exercising an awful " slight of hand " on our Nation when he " promises " an in/out Referendum. He has been careful to say this referendum will not be before 2017, specifically (note the word) the " END " of 2017, by which time the below powers will be out of our reach to alter.
Look at the last competence. It says " WITHDRAWAL OF A MEMBER STATE ".
Ask yourself, if we have given away the right of withdrawal from the EU by March 2017, will a referendum at the END of 2017 resulting in a withdrawal vote, is likely to happen.
Cameron will be able to say, "Sorry guys ! !, I can't do anything about it… the rest of the EU under QMV will not allow us to leave.
Like a lobster which has wandered into a lobster pot, we will not be able to get out. Any referendum will be effectively meaningless!!
Clever, or what!!!
HERE ARE THE AREAS OF COMPETANCE BEING CEDED.
1. Initiatives of the High Representative for Foreign Affairs
2. Administrative co-operation
3. Asylum
4. Border controls
5. Citizens' initiative regulations
6. Civil protection
7. Committee of the Regions
8. Common defence policy
9. Crime prevention incentives
10. Criminal judicial co-operation
11. Criminal law
12. Culture
13. Diplomatic & Consular protection
14. Economic & Social Committee
15. Emergency international aid
16. Energy
17. EU budget
18. Eurojust
19. European Central Bank
20. European Court of Justice
21. Europol
22.Eurozone external representation
23. Foreign Affairs High Representative election
24. Freedom of movement for workers
25. Freedom to establish a business
26. Freedom, security, justice, co-operation & evaluation
27. Funding the Common Foreign & Security Policy
28. General economic interest services
29. Humanitarian aid
30. Immigration
31. Intellectual property
32. Organisation of the Council of the EU
33. Police co-operation
34. President of the European Council election
35. Response to natural disasters & terrorism
36. Rules concerning the Armaments Agency
37. Self-employment access rights
38. Social Security Unanimity
39. Space
40. Sport
41. Structural & Cohension Funds
42. Tourism
43. Transport
AND FINALLY:
44. Withdrawal of a member state.