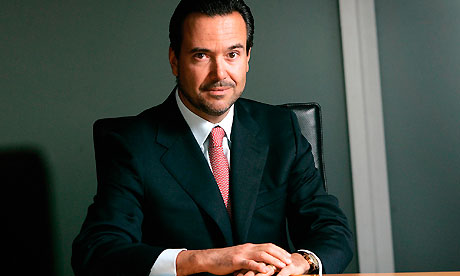 Declaration of interest: The Editor is a shareholder in Lloyds Bank.
Senhor Osório is the Chief Executive of Lloyds Bank. In 2008, the government of the day, in which Mr Miliband was a member and therefore must accept cabinet responsibility made a deal with Lloyds Bank. Essentially it was this: that with UK government support in the form of additional taxpayer funded share capital, the then SOLVENT Lloyds Bank should take over the INSOLVENT Halifax Bank of Scotland.
The Lloyds board of Directors agreed subject to a vote of the shareholders and a majority of the shareholders (including the Editor) agreed. The Labour government agreed to waive the takeover through and not scrutinise it insofar as monopolies and merger issues were concerned. Of course, the Labour government could not waive the EU away and thus Lloyds was forced to split off TSB.
Since that time the stakeholders in Lloyds (shareholders and employees) had endured loss after loss. Since that time, Labour politicians have libeled Lloyds Bank suggesting the bank was in part responsible for the reckless lending policies of the then separate Halifax Bank of Scotland.
Now Mr Miliband threatens to break up Lloyds Bank.
What this means is that Mr Miliband is going to break his word.
But then British Gazette readers will not be in the least bit surprised at this for Mr Miliband has form. Mr Miliband has already broken his Most Solemn Oath of Privy Councillor by participating in allowing a Foreign Power (the EU) have precedence in this land. He has compounded this Act of High Treason by causing Her Majesty the Queen to be placed in Breach of Her Coronation Oath to Govern Us according to Our Laws and Customs. Not the laws and customs of the European Union.
At the time of the meeting (held at the NEC in Birmingham) I spoke to the Chief Executive of Lloyds at the time – Eric Daniels – and warned him that he was dealing with characters a prudent man would be very wary of trusting. I gave him the information relating to the Privy Council oath. He gave a revealing reply. He told me that Lloyds board already knew!
Silly me! Of course they did! Directors of large international businesses – especially banks – check out the bona fides of those they are dealing with!
Herewith the current relevant links about Lloyds Bank:
http://www.independent.co.uk/news/business/news/ecb-stress-test-raises-doubts-about-lloyds-divi-9821020.html
http://uk.reuters.com/article/2014/10/26/uk-eu-banks-lloyds-banking-idUKKBN0IF0AL20141026

http://www.telegraph.co.uk/finance/newsbysector/epic/lloy/11191821/Lloyds-cuts-9000-jobs-and-shuts-150-branches-as-profits-leap.html