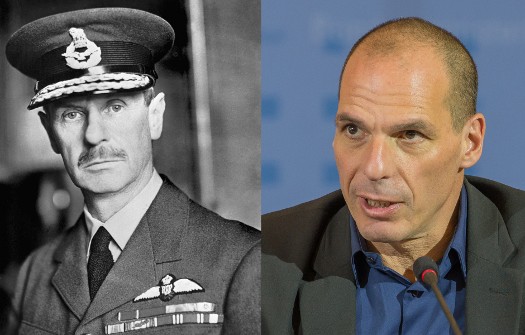 Never let it be said that the British Gazette is not prepared to be controversial!
Above are Dr. Yanis Varoufakis, former Finance Minister of Greece and Air Chief Marshal the Lord Dowding GCB, GCVO, CMG.
Both these men at pivotal moments in their country's history took bold decision which later proved [Dowding] or could prove [Varoufakis] pivotal.
Faced with a mountain of debt which his country simply cannot repay, Dr. Yanis Varoufakis had insisted at the meetings with other Eurozone members that Greece must be offered some level of relief against her debts.
Let us face FACTS:
- This sort of thing happens every day – but not to semi-sovereign states such as Greece. Private individuals finding themselves with debts they have no possibility of repaying regularly enter into debt relief arrangements with their creditors. This is done because their creditors realise that the alternative is bankruptcy – then the creditors end up with nothing!
Of course some of the creditors [in particular the Baltic states – who not only feel that Greece is richer than them but also despise the Greeks making overtures to Russia] hate the idea of Greece being let off. They have therefore demanded the head of Varoufakis.
Lord Dowding suffered a similar fate. Lord Dowding was in charge of RAF Fighter Command at the time of the Fall of France in 1940. The Air Ministry asked him to send more fighter aircraft and crews to France to help stave of the German attack. He refused stating that he had to hold some aircraft and crews in reserve.
Lord Dowding took the CORRECT decision. Had he not done so the RAF would have been unable to fight of the Germans and the Battle of Britain would have been lost and Hitler would have won.
The Air Ministry officials NEVER forgave Dowding and as a result he was not created an Earl but had to accept two rungs further down and become a mere Baron.