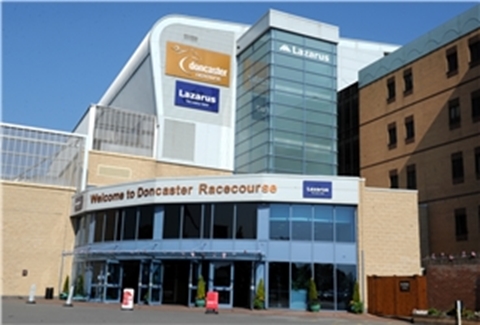 Above, the conference entrance at Doncaster Racecourse.
From our Correspondent Stuart Guppy, Chairman, UKIP St. Ives & The Isles of Scilly Branch.
It was great !
I enjoy conferences as we are inspired by the sheer determinations of everyone present to get on with the job. The enthusiasm was infectious, with everyone in high spirits.
Each year, I see the number of young people at conferences increasing. This year, even more. Smart young men and women everywhere, a great boost to morale of my generation.
I urge you all to look up the speeches on-line and mention here just a few which by no means suggests that others in any way had a lesser impact. Far from it.
All the speeches brought us up to speed. They were well articulated and researched on the latest situations that the spokespeople lead on.
What UKIP does so well is research outside its own box and always invites speakers from other countries to address Conferences. This year, we were brought up to date by Peter Lundgren MP Sweden Democrats, Joram Van Klaveren MP Voonederland (The Netherlands), Helle Hagenau, Former Secretarial General ' No to EU ' Norway and Rashida Saani Nasamu Ghana broadcaster and businesswoman. Wow, was she good !
Have a look at the videos and see how the EU meddles with their country's commercial and citizens lives. Why should Brussels tell Ghana what to do ? It's not in the EU.
Guest speakers from the Eurosceptic groups Better Off Out, Campaign for an English Parliament, The Freedom Association and The Electoral Reform Society had plenty to say, and said it all so well.
David Coburn MEP, UKIP Leader Scotland, dismissed any suggestion that UKIP doesn't do well north of the border. Don't you believe it ! It's doing well under the direction and no – messing – about leadership of David.
Nathan Gill MEP, Leader UKIP Wales, took us through the rising voting figures of UKIP in Wales which points to UKIP seats in The Welsh Assembly next year. Nathan works tremendously hard throughout Wales and is hugely successful in the old labour areas.
The UKIP N. Ireland spokesman was unable to be there, but rising support for UKIP was reported following serious concerns of many young people emigrating due to lack of work following collapse of EU building projects. Appalling wastes of tax-payers money were outlined.
Three Young Independence members were presented with awards for speech making, the winner earning a cheque for £100. I had my usual moan that Y I don't get a slot on the main platform with the other speakers as I feel it's wrong that they are just on the fringe. I met Dan Evans, recently elected to chair Young Independence, and hope we can invite him down soon, possibly the AGM.
I had a quick chat with William Dartmouth MEP and Guy Parfitt amongst others, too many to list. With such a huge attendance, it was impossible to find some in the crowds who I wanted to catch up with.
There were so many fringe meetings but I went to The Bruges Group's talk by Robert Oulds, chaired by Paul Nuttall, which gave very useful information.
It was two days of packed itinerary and I was not pleased to see the only mention in The Sunday Times was some so – called spat about Suzanne Evans not being selected for candidate for the London Mayoral Elections. Yet pages and pages about the Labour conference. Nothing about the many fine speeches from the UKIP platform. Absolutely nothing
Yet we beat Labour in the General Election. Media bias, controlled by The Establishment ? Oh yes !. Mustn't let the public see reality now, must we !
I feel a letter coming on to BBC Complaints. Probably won't do any good, but always worth a try. I suppose they have to justify the £141 million ( of our taxes) given to them (against their charter) by Brussels.
Anyway, re-rejuvenated, on we go. Lots to do……………………………
Any queries, please get in touch.
http://www.ukipcornwall.org/