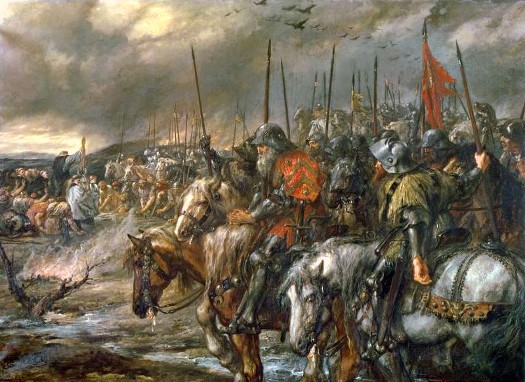 Above, the painting "Morning of the Battle of Agincourt" by Sir John Gilbert (19th century).
Crispin Crispian shall ne'er go by,
From this day to the ending of the world,
But we in it shall be remember'd;
We few, we happy few, we band of brothers.
Today, 25th October falls on a Sunday. As it did in 1415. It is the 600th anniversary of the Battle of Agincourt, that most famous of English victories over the French. The 25th October is the feast day of St Crispin as well. In addition to Agincourt the disastrous Charge of the Light Brigade took place in 1854 and more successfully it was the third day of the Second Battle of El Alamein,
The Battle of Agincourt was fought on a muddy field in northern France 600 years ago. Today our people trudge through a different kind of mud emanating from the continent: La boue de Bruxelles (the mud of Brussels).
Of course, we EuroRealists are preparing for another great battle: the EU referendum. Unlike 600 years ago, our enemy are not Frenchmen fighting to rule us but Englishmen (and Scotsmen, and Welshmen, and Irishmen) fighting to have the French rule us!