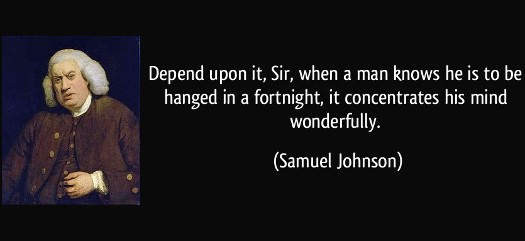 Doctor Samuel Johnson's great wisdom has obviously succeeded along with the British Gazette's pontifications; in the case of our Dearly Beloved Climate Change Secretary, Ms Amber Rudd.
It was yesterday's first article: http://www.british-gazette.co.uk/2015/11/20/amber-alert-a-new-chinese-take-away-is-to-be-built-in-somerset/ where we drew the Reader's attention to the need to keep the lights on and the effect that "the lights going out in Britain" would have as disastrous effect on Ms Rudd's political career prospects as did the lights going out in Europe of 1914 (the Great War) had on the Belle Epoch.
It seems that the near certainty of political death should those lights go off has at long last managed to persuade Ms Rudd to devote a little more time and effort to making sure that this does not happen.
The Daily Telegraph reports upon it, thus: "In a major speech setting out a new strategy, the energy secretary is expected to say that from now on, policies will balance "the need to decarbonise with the need to keep bills as low as possible" Energy security has to be the first priority. It is fundamental to the health of our economy and the lives of our people….,"
GOTO: http://www.telegraph.co.uk/news/earth/energy/11994954/Amber-Rudd-end-to-pursuit-of-green-energy-at-all-costs.html