There will have been great rejoicing at the BBC, the offices of Greenpeace and the Met Office (in secret, of course) when after some 300 years absence the waterfall Malham Cove (above) made a brief but spectacular reappearance on Sunday 6th December 2015.
Spectacular scenes such as this and also of images such as the flooding of Kirkstall Road in Leeds below: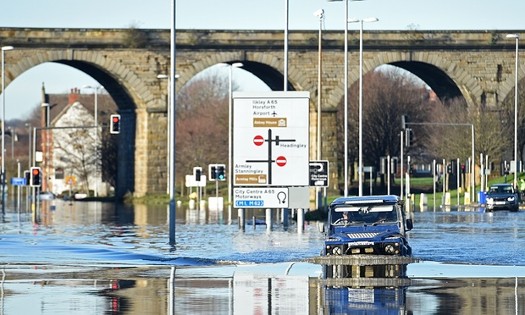 (something your Editor has never known in the 58 years he spent living in Leeds) are to the promoters of the Glow Bull Warning scam large nuggets of the purest gold that they will use to put forward as "evidence" that humanity's burning of "fossil fuels" is the cause. There are of course bold souls such as the excellent Christopher Booker who attempt to counsel against this.
GOTO: http://www.telegraph.co.uk/comment/columnists/christopherbooker/12070190/Lets-all-boo-the-global-warming-panto-villains.html
We would also recommend the article by Philip Walling.
GOTO: https://notalotofpeopleknowthat.wordpress.com/2015/12/26/what-the-authorities-wont-tell-you-about-the-floods/
The Bullshit Broadcasting Crew persist in reporting the Glow Bull Warnists claims that 2015 was the "hottest year on record" – when satellite observations show it was not! The Malham waterfall owes more to low solar activity than the CO2 emitted by the Land Rovers and tractors being driven around and about.
As for the flooding, the effects have been exacerbated by a reduction in ploughing of fields and the consequent reduction in the number of furrows along with building on flood plains.