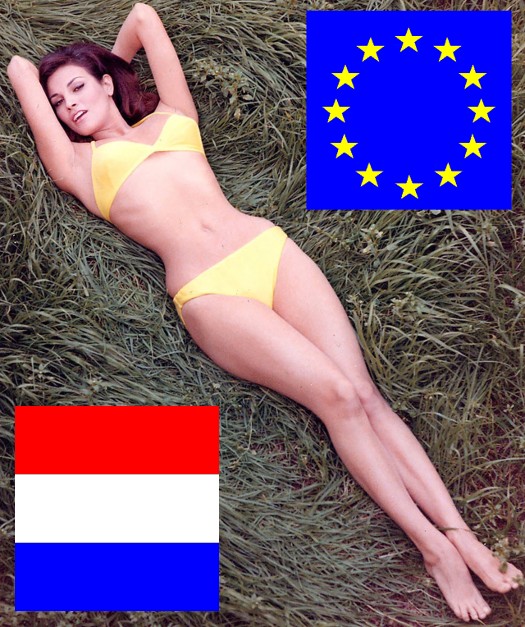 Above, 1960s teenage fantasy, Raquel Welch.
This Christmas was the second Christmas I have spent in Cornwall, most of the previous Christmases having being spent in Leeds in the West Riding of Yorkshire. It has also been the second Christmas where I have attended all the Church services during the festive period. Why? Am I very religious? No is the answer. As a boy I attended regularly because my parents did. As an independent young man I did not. It was not my thing. As a carer for two elderly infirm parents I accompanied them; not because I was told to but out of love and respect for two people who had given me so much and had asked, by comparison, for so little in return. Now, having moved to a completely new area I attend church regularly so as to get myself established in the local community and get some new friends to add to those I have left in Yorkshire and elsewhere. I rejoined UKIP for the same reason.
Because I am not very religious, my attendance at church is influenced more by my upbringing than theological belief. One material aspect of this is what those over a certain age would remember as being referred to as "Sunday Best." This appears to be a tradition practised by elderly members of the White British community but now abandoned by many of the younger generation in that community. I make the racial distinction as my late mother was a Local Preacher and one of the chapels she regularly preached in was Roscoe Place Methodist Church. There those with Caribbean ancestry maintain this tradition. It is a tradition which I approve of. If asked to explain it I would venture to make this comparison: Were you Dear Reader invited to attend one of the Garden Parties held by Her Majesty at Buckingham Palace, would you attend in your gardening or walking clothes? Err… I do not think so. In fact, for those gentlemen who are married I know so – for Mrs. Dear Reader would not allow it!
Now churches have been referred to by many "as the house of God." I would venture to suggest that the Almighty outranks Her Majesty by a considerable margin and as such I will at least put on a decent suit or jacket/trouser combination.
Along with putting on a decent suit, I also attend to other aspects and have generally put the razor over my face before attending. Of late however I had allowed the stubble to grow into a modest beard – before getting rid of it for Christmas Day 2015, for not only was I going to church, some new friends had invited me to Christmas diner.
Christmases are a time of memories which is why for many old folk spending Christmas on their own it can be very sad. It was as I was making myself presentable that a memory came back and you Dear Reader will BE MOST RELIVED that we finally get near the point of this article!
You see, having marked (I refuse to use the word "celebrate") the 30th anniversary of my 30th birthday some time ago, growing a beard for me is no longer a problem. Back in 1969 however there was a school disco and unlike the public schools attended by a number of readers, this was a "co-ed" day school. Which of course meant more or less equal numbers of teenage girls. Being a very young looking teenager however I found to by great chagrin that my feelings towards certain girls was not reciprocated, those girls favouring those lads sporting facial hair that those of us unfortunates could not grow. Since the music was very loud and having "drawn a blank" insofar as female admirers was concerned, I saw no point in damaging my hearing and ceased to attend. On one occasion walking home one of those lads lucky enough to sport facial hair asked, "Why don't you go to the disco and get a girlfriend?" "Nah!" I replied, "Can't hear anything so I can't chat 'em up!" "You should go." he replied. "It works for me."
And that Dear Reader is the point! What works for one teenage boy or in the UK's case, nation state, DOES NOT always work for another teenage boy, or nation state.
EU membership WORKS for the Dutch. In a recent article I referred to by shareholding in Royal Dutch Shell. The size of the holding (relative to my other investments) breaks the golden rule about concentrating too much of a portfolio in any one stock. In this morning's post I received the Circular to Shell Shareholders and Notice of the Shell General Meeting that will authorise the purchase/takeover of BG Group PLC. The meeting will be held at the Circustheater, Circusstraat 4, 2586CW, The Hague, The Netherlands at 10:00 (Dutch Time) on Wednesday 27th January, 2016.
The meeting is held in Holland because Royal Dutch Shell is a Dutch company, not a British company. Had Shell had been a British company there is no way I would be running the risk of having so much of the portfolio concentrated in one stock.
This is because the point made by the Europhiles about the much increased "clout" the European Union has in comparison to the member states that comprise it is VALID in the case of The Netherlands but not so in relation to the UK. It is a FACT that the international oil industry is heavily influenced by the USA. Most obviously, crude oil is traded in the US $. British Gazette readers well know how supine British governments are to that of the USA. It is also a FACT – that such as Nick Clegg relish pointing out – that the EU actually stands up to the USA. This means as a Dutch company, Shell is in a better position than the British oil giant BP for instance.
This is of course no argument for having the UK remaining a vassal state of the EU. This is because EU foreign policy tends to favour some states and not others. Throughout the UK's sorry membership, the EEC/EC/EU has worked more for the interests it's members in western Europe than elsewhere.
The lesson we should draw from this is this: The UK should leave the EU but in leaving be more prepared to defend the interests of British business, for it is British business that earns British profits that can then by used to pay British corporation tax to fund British public spending! This however will mean a REDUCTION of the perceived role of the UK on the world stage. This is because if the UK is no longer prepared to "play ball" with the USA, then the USA will no longer be prepared to "play ball" with the UK. Which will mean loss of the UK permanent seat on the UN Security Council. Which will lead to the loss of the Falkland Islands.
This is what Nick Clegg has in mind when he talks about LOSS OF BRITISH INFLUENCE.
So your choice in the up-coming referendum is this, Dear Reader:
1. Vote to restore sovereign and lawful government to the United Kingdom of Great Britain and Northern Ireland but at the cost of 3,000 or so British Citizens loosing their homes in the Falkland Islands.
2. Vote to keep the United Kingdom of Great Britain and Northern Ireland as a suzerain state of the European Union and allow 3,000 or so British Citizens to keep their homes in the Falkland Islands.