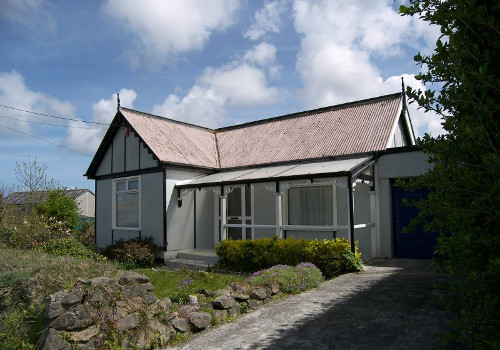 Above, 37 Station Road, Pool, Redruth, Cornwall, TR15 3QG.
On Thursday 23rd June 2016 two events will take place, one very significant, the other of little significance so far as the great scheme of things is concerned. Of the former, it is difficult to overstate it's significance. It is of course the day the British People vote in the EU Referendum. Between 7:00AM and 10:00PM the British People will decided whether or not they wish the formerly sovereign United Kingdom of Great Britain and Northern Ireland should once again become a sovereign independent state enabling Her Majesty the Queen to no longer be in breach of her Coronation Oath to govern us according to our laws and customs – and not those of the European Union; or whether to have the county remain a vassal of the aforesaid.
Of the second, hardly can the contrast in significance be greater! It is the auction of the property featured in the image above. It is Lot 110 with a Guide Price: £75,000-£95,000. The auction venue is Sandy Park Stadium, Sandy Park Way, Exeter, Devon, EX2 7NN. The auction time: 1:00PM.
The auctioneers are Countrywide Estate Agents trading as Countrywide Property Auctions. Company Registered Number: 00789476 (registered in England and Wales) whose Registered Office is: Countrywide House, 88-103 Caldecotte Lake Drive, Caldecotte, Milton Keynes, Buckinghamshire MK7 8JT.
Herewith the hypertext link for any reader interested: http://www.countrywidepropertyauctions.co.uk/property_details.php?current=1&priceMin=50000&priceMax=100000&id=48366
At this point Dear Reader you will be scratching your head and asking: "what possible connection is there between the two [events]?
THIS:
As the effects of the assassination of the late Mrs "Jo" Cox make themselves manifest on the world's stock markets (https://www.mail.com/int/news/uk/4425214-asian-stocks-leap-fears-ease-british-vote-eu.html#.1272-stage-hero1-11) we can read the dispassionate opinions such as Margaret Yang, an analyst at CMC Markets in Singapore below:
"The entire market is now focused on the U.K.'s EU referendum result. Judging by the market reaction over the last two days, more volatility is likely this week. It is expected that a vote to remain would lead to a quick unwinding of risk premium and a substantial risk-on rally, whereas a Brexit vote would have the opposite effect."
Large numbers of traders and investors across the world are making purchase and sale decisions involving sums of money that exceed the entire net worth of many ordinary working class people in constituencies like Batley and Spen. They regard a "Brexit" as "bad news" and vote to remain as "good news". This is because they think that they will make more money should the vote go the way those such as the Chameleon wish.
There is one not insubstantial problem with this however: it's illegal! The United Kingdom of Great Britain and Northern Ireland has been made subject to the rule of a foreign power and that is unconstitutional. Those that support this state of affairs may regard it as profitable and rewarding, but no matter how much money they make, it is still illegal.
Now let us imagine there is a certain Canadian gentleman by the name of Mr Mark Carney – for it is he! Mr Carney has been left a nice legacy from a distant cousin in Alberta. After the inevitable legal expenses and taxes have been deducted and the money has been transferred into Mr Carney's Sterling bank account in London from the lawyer's Canadian $ bank account in Winnipeg, with yet further deductions, Mr Carney is finding himself with a little over £100,000 extra cash!
Mr Carney looks forlornly at the pitiful interest rates the banks are paying depositors these days and being a cautious sensible fellow, eschews putting the money on the stock market – something the cautious Canadian regards as akin to putting it on the horse at Newmarket! Our Canadian friend is then suddenly seized with a good idea! He will invest the money in property! Now our friend knows that £100,000 would buy little more than a kitchen cupboard in those swanky new developments his Chinese billionaire friends are snapping up all over central and west London. Our friend therefore looks a little further afield. Realising that he is a "cash buyer" he looks at property auctions. A search on the internet leads him to Lot 110: 37 Station Road, Pool, Redruth, Cornwall, TR15 3QG.
He arranges with the auctioneer that they bid on his behalf to a maximum of £110,000. That afternoon as the British People are going to the polls, the auctioneer telephones our friend with some news. Number 37 was knocked down to him. With fees deducted he has £3.17 left from his £100,107.49 legacy. He is now the owner of 37 Station Road, Pool, Redruth, Cornwall, TR15 3QG!
In early July our friend travels down to Redruth to inspect his new acquisition. He imagines a neat and tidy little place and intends to visit a local letting agent and instruct them to put the property out to let at £600.00 PCM. Excluding fees and holding sums in reserve for maintenance this will give a return of over 7%! Unfortunately, when our friend inspects the property – for the first time – he discovers that it requires a considerable amount of money spending on it before a tenant can be found for it! Our disheartened friend then repairs to a local hostelry to drown his sorrows!
Whilst drowning his sorrows with the local scrumpy our friend strikes up a conversation with a certain lady. This lady went by the name of "Frankie". Our friend tells his sad tale to "Frankie" and bemoans his misfortune! "Frankie" however has some good news! She herself was at the auction with a view to purchase Lot 110. "Frankie" herself did not have £100,000 ready cash and the property was not mortgageable (which was why it was being sold at auction) but a colleague was prepared to lend her money on an "informal basis" to acquire the property. They were however just outbid by our friend!
"Frankie" had a proposal to put to our friend!
Frankie herself would become our friend's tenant at £600 PCM after six months with an initial "peppercorn" rent of £6 PCM. In return, "Frankie" would undertake to put the property into a satisfactory condition at her expense!
Naturally our friend was over joyed! "Frankie" went onto explain that the property would be used as her unofficial private place of business for "Frankie" provided personal services of a certain nature. She assured our friend however that there was nothing to worry about as she and her clients were most discrete and did not disturb the neighbours.
At this point our friend became alarmed and enquired as to precisely what type of business it was that "Frankie" provided. He went onto state that he could not entertain the possibility of the premises being used as a brothel. "Frankie" assured him that he need not worry for she "Frankie" was a dominatrix and did not have sexual intercourse with her clients. Our friend was most pleased knowing as he did a certain number of the male members of the present cabinet – and the Shadow cabinet – availed themselves of such services!
As a result he agreed that "Frankie" could become his tenant. Rather than go to an estate agent, our friend went to a local solicitor whose first name was Graham. Our friend explained what he wanted by way of a contract of tenancy and explained what his tenant proposed to do with the premises.
Our learned friend Graham then told our Canadian friend that such an agreement was illegal.
"Surely not!" exclaimed Mr Carney continuing, "Frankie" herself explained that she was a dominatrix and not a prostitute. She does not have sexual intercourse with her clients. She whips them instead!"
Our learned friend explained that this was irrelevant in the eyes of the law. The law he explained regard "Frankie" as a supplier of sexual services and as such the supply of such was illegal. Were Mr Carney to conclude such an arrangement and it was discovered he would be prosecuted and upon conviction would probably find himself in prison. Our learned friend Graham went onto explain that prison would not be the end of the matter for the CPS would likely wish to pursue action under POCA (Proceeds of Crime Act) and relieve our friend of all money he would have received from Frankie together with Number 37! Thus our friend would emerge from one of Her Majesty's correctional facilities (as our Canadian friends euphemistically describe them) sans job and sans house!
Upon learning this, our Canadian friend was a most disheartened fellow. The learned Graham took pity on him and bought him a pint of ale and told him that there would be no fee. Mr Carney made the journey back to London a poorer but wiser man!