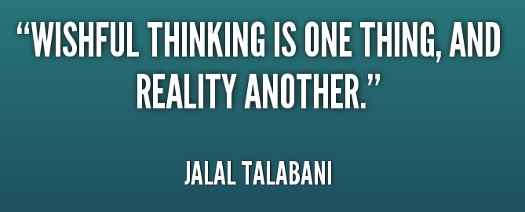 We are indented to His Excellency, Mr Jalal Talabani, 6th President of Iraq for providing us with the title of today's article.
According to Associated Press (http://www.mail.com/int/news/uk/4447766-division-confusion-eu-rethinks-future-without-brit.html#.1258-stage-hero1-2) Frau Merkel has dismissed suggestions that the Chameleon's successor might not start the formal EU withdrawal process because of the financial turmoil prompted by the vote and wide confusion about how to extract a country from the EU. "I see no way to reverse it," the German Chancellor said adding that this is not the time for "wishful thinking."
From these statements it would appear that the likelihood that there is some form of Europhile rearguard action being plotted as referred to in our previous articles (http://www.british-gazette.co.uk/2016/06/27/the-eu-cracks-are-appearing-in-the-dyke/) and (http://www.british-gazette.co.uk/2016/06/28/this-is-the-deal-take-it-or-leave-it/) may not be the case. However we have to take into account Ms Sturgeon is holding a series meeting with leading EU officials on her visit to Brussels to discuss Brexit (http://www.bbc.co.uk/news/uk-scotland-scotland-politics-36656980).
Whilst sympathetic to Ms Sturgeon, EU officials will be constrained by the demands of Spain that Scottish secession is not encouraged.
The one thing that is certain is that things are in a state of flux and when EU leaders make public statements they can be to different audiences. Another German politician questioned whether or not Article 50 would be served by the British government. This is now clearly the strategy of the Liberal Democrats.
Of course we can speculate all we like and it can be argued that this organ has been indulging in a little too much of late. However we should all keep in mind Mr Talabani's words.
Let is look at that which we know: The FACTS:
There are just FOUR possible outcomes.
Why?
Because – unless something totally extraordinary happens – these are the ONLY four possible outcomes. They are:
1. Halting the submission of Article 50 and retention of EU membership.
2. Submission of Article 50 and UK acceptance of a WTO plus deal (with EU bureaucratic assistance) which gives the UK control over it's borders and will allow the introduction of an "Australian style points based system".
3. Submission of Article 50 and EU acceptance of UK EFTA + EEA membership along the lines of Doctor Richard North's Flexcit.
4. Submission of Article 50 and EU acceptance of compromised UK EFTA + EEA membership less advantageous than Flexcit.
Whilst all four outcomes are possible, only three can be counted as being probable. These being outcomes 1, 3 and 4. Unfortunately due to the inadequacies of so many British politicians, outcome 4 is more likely than outcome 3!
There are other things we know for definite.
The large firms of the CBI and the financial service industry in London will be lobbying extremely intensely the Conservative, Labour and Liberal Democratic parties.
The large firms of the CBI and the financial service industry in London will be demanding that this issue is settled quickly as prolonged uncertainty will be very damaging.
The outcome the large firms of the CBI and the financial service industry in London will be pressing for the most is of course outcome 1. This of course will be impossible for a Conservative government to deliver! The Liberal Democrats however have already offered this.
The ongoing train crash that is now the Labour Party clearly indicates that the rebel Labour MPs are convinced that there is going to be a General Election called immediately after the election of a new leader of the Tory party. This person will go to the country declaring that democracy demands they seek their own mandate from the voters and also an endorsement of submitting Article 50. This will be an election manifesto commitment.
At this point it is important for the reader to consider the FACT that the importance of Brexit will transcend all other political issues. The reader also has to consider what the large firms of the CBI and the financial service industry in London will be considering; that the First Past the Post system is broken because in nearly all English constituencies there will be candidates from FIVE parties (Conservative/Labour/Green/Liberal-Democrat/UKIP). Whilst in previous elections FPP was considered a bearable deficiency, many will suggest that for this most important of General Elections, use of this broken system is quite simply, unacceptable.
It is likely that the Labour rebels and the Liberal Democrats will wish to employ a strategy they have employed on certain limited occasions in the past. This is the so called tactic of "decapitation". This is where the Labour and Liberal Democrat parties make an agreement that in a certain constituency one party will not stand a candidate to allow a "two horse race" with the Tory candidate resulting with all the anti Tory votes going to once candidate. It is likely that the Labour rebels and Liberal Democrats will agree on a joint policy to put a manifesto commitment in the election manifestos that if they form a government they will not submit Article 50 and will keep the UK in the EU. The Labour rebels and Liberal Democrats will likely wish to agree a joint strategy – an election pact whereby each Conservative candidate will either face a Labour Party or a Liberal Democrat candidate. It is also likely that they would wish to bring the Green Party and Plaid Cymru in certain constituencies. This of course would require that the Labour Party was led by someone other than Comrade Corbyn!
This of course will present a challenge to the new Conservative Prime Minister! It is almost certain that this person will approach Nigel Farage with a request that a similar pact and to put a manifesto commitment in the election manifesto that if they formed a government they would submit Article 50 and will withdraw the UK from the EU. Asking Nigel Farage to put such a commitment in UKIP's manifesto will clearly not be a problem! Getting him to agree to a pact on terms acceptable to the Tories may well be. This for two reasons:
1. Nigel will insist that the UK would have the ability to control it's own borders immediately upon Brexit to enable the famous "Australian style points based system" – this for the simple reason that this is what UKIP and the leave campaign intimated during the referendum and is what most of the E, D, C2 and C1 voters in the Labour heartlands wanted as a result of Brexit.
2. Nigel will likely insist on a large number of UKIP candidates with a realistic prospect of being elected. The Tories clearly would wish UKIP to field candidates in places such as Barnsley and the Rhondda and allow them a free hand in places such as Weybridge and Tatton. Nigel will also be aware that many UKIP activists will not want to accept what could be perceived as a "half way house" with the continuation of the "Free Movement of People" and membership of the Single Market and it's entailed restrictions.
Therefore the Green/Labour/Liberal Democrat/Plaid Cymru electoral alliance will have the prospect of having a unified Remain vote contesting a split Brexit vote.
This of course is another factor which explains why the Labour rebels are rebelling. Comrade Corbyn of course is stoutly resisting these calls and has announced that he will stand again as Party Leader. If as seems likely Comrade Corbyn wins we will likely be faced with a General Election at the end of October with two Brexit parties and four Remain parties.
Today at Prime Minister's questions the Chameleon made a remarkable outburst: