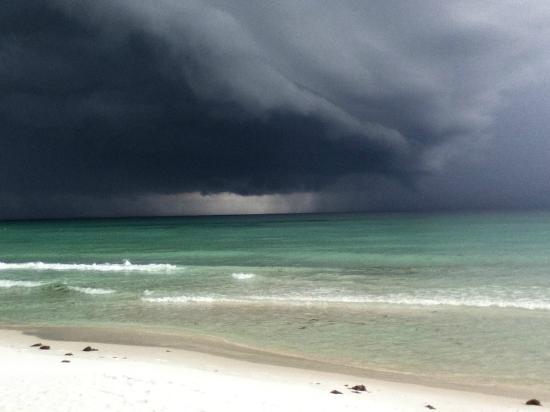 Living where we live – on the coast with a sea view – we get to see much of the weather before it reaches us. This includes storms. We are fortunate to live in Cornwall which is blessed in being not subject to the intensity of storms that those in the tropics have to face from time to time. True, we do get storms. But not on the scale of the tropical storm above.
When we are out on the coast path and are walking quickly to where the car is parked to avoid a rainstorm that is coming our way we will often begin to feel the first rain pitter patter on us and around us before the actual rainstorm reaches us.
However, all of us in Europe (and we do not mean the European Union) are facing an oncoming storm of frightening proportions. We already have suffered some of the storm to come with recent terrorist outrages.
The cause of course is the basic incompatibility of cultures that is best illustrated by the following report in the Guardian: https://www.theguardian.com/world/2016/aug/24/french-police-make-woman-remove-burkini-on-nice-beach?utm_source=esp&utm_medium=Email&utm_campaign=GU+Today+main+NEW+H+categories&utm_term=187299&subid=15907465&CMP=EMCNEWEML6619I2
An indication of the mindset of some people in Europe is best illustrated by an awful situation taking place outside Europe in Pakistan. This is the case of Asia Bibi. Essentially, this is a case of a woman on "death row" solely for being a Christian. Happily the Supreme Court of Pakistan will review the case in October. We can be sure that the UK Foreign Office is putting very great pressure on Pakistan to release this poor woman. Hopefully we may expect her to be able to Christmas 2016 in the UK. Sadly, she will require permanent armed police protection for the rest of her life, which we hope will be a long and happy one.
Herewith a report on Asia Bibi: http://www.premier.org.uk/News/World/Asia-Bibi-set-for-October-court-date?utm_source=Premier%20Christian%20Media&utm_medium=email&utm_campaign=7463667_daily%20news%2024%20aug&utm_content=bibi&dm_i=16DQ,4FZ03,M9A8UA,GDI7B,1
Of course Muslim extremism has spread far beyond the Middle East, North Africa and Europe. It is worldwide as this latest outrage illustrates: https://www.theguardian.com/australia-news/2016/aug/24/british-woman-allegedly-stabbed-to-death-by-frenchman-at-australian-backpackers-hostel?utm_source=esp&utm_medium=Email&utm_campaign=GU+Today+main+NEW+H+categories&utm_term=187299&subid=15907465&CMP=EMCNEWEML6619I2
The ever thorough Germans are sensibly beginning to batten down the hatches! Herewith: http://www.dw.com/en/report-germany-to-require-citizens-to-stockpile-supplies-in-case-of-catastrophe/a-19491176