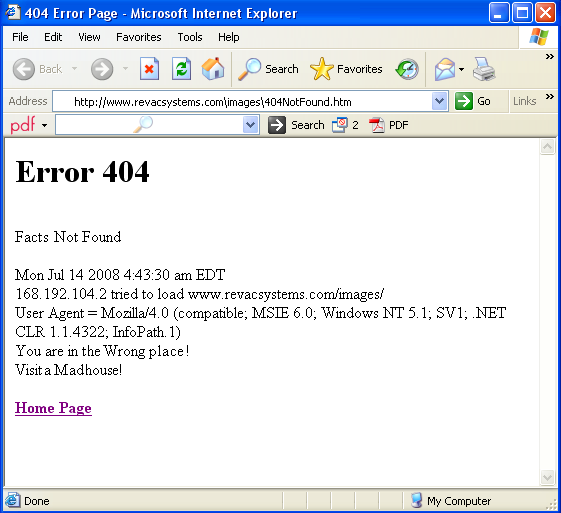 There are certain things that are synonymous with every day life. Many are constant. Some change with the times. For instance, in the 19th Century, horse manure has a common hazard on London's streets. As was dog mess on the pavements. Today the horse manure is largely gone – except when the Queen's horses pass one by on the Mall – but sadly the dog mess is ever present!
Today meeting a "HTTP 404 – File not found" error message is synonymous with every (other) day life.
Today, many people spend a significant portion of their lives "online". Were this sentence repeated to someone in the 19th Century they would assume it might assume it had something to do with railways. Or shipping!
Similarly, those of us who DO spend a significant portion of our lives "online" are aware that "cyberspace" is full of the most absurd, bizarre, crazy, delusional and eccentric fantasies.
Of course, there are places and people we hope and trust are not subject to such outlandish foolishness. Chiefly, Her Majesty's Government, Our Parliament and Our Parliamentarians!
Sadly and worryingly however it seems many MPs are completely unaware about the nature and extent of the European Union (Notice of Withdrawal) Bill they have so recently voted upon. This is evidenced by some of the amendments some of them wish to lay before the house.
Many MPs it seems want a vote on "the deal". It seems some of these poor deluded fools actually think that once invoked Article 50 can be stopped!
This is nonsense! Once it is invoked, a clock is set ticking. There will be a two year or seven hundred and thirty day countdown to "Brexit"! Once invoked, "Brexit" will happen. Deal or no deal!
Yes, it CAN be delayed. However this requires ALL EU member states to agree!
Europhile British Gazette readers (yes, there are a number) may well ask; "How did such an Article come to be drafted? Surely there should have been a provision to call a halt?
The answer to that appears to be that none of the parties drafting the treaty gave it that much thought as it was not believed to be a substantive issue. This was due to their belief that a member state was not going to leave! "This is never going to happen!" they thought. Therefore no real thought or attention was given to the potential consequences! What they drafted was a clause to deter any member state from leaving, and left it at that assuming that it would never be used.
When the UK's negotiating team arrives in Brussels we are sure that those famous words from Dante's Divine Comedy will be at the fore front of many British Gazette readers minds. Viz:
Through me you pass into the city of woe:
Through me you pass into eternal pain:
Through me among the people lost for aye.
Justice the founder of my fabric mov'd:
To rear me was the task of power divine,
Supremest wisdom, and primeval love.
Before me things create were none, save things
Eternal, and eternal I endure.
All hope abandon ye who enter here.
Such characters in colour dim I mark'd
Over a portal's lofty arch inscrib'd:
Whereat I thus: Master, these words import.
When Dante Alighieri wrote this allegorical epic poem between 1306 and 1321 he had picked Virgil (Publius Vergilius Maro) the Roman poet as the guide who takes the reader through the author's examination of the afterlife, which travels through the Inferno (Hell), the Purgatorio (Purgatory), and the Paradiso (Heaven).
Who will act as guide for the suffering British Public one wonders?