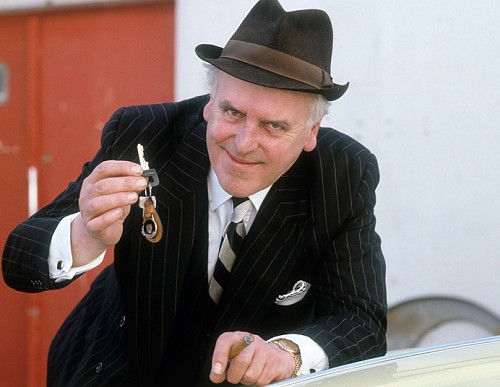 Above, the character Arthur Daley.
A question: Which of these two men would you buy a used car from? Arthur Daley (above) or Paul Nuttall?
The answer of course is Mr Nuttall. Let us however expand this by way of a hypothetical analytical tale.
Let us suppose that Arthur Daley is a real life used car salesman and that Paul Nuttall decides to quit UKIP and set up as a used car salesman. Let us suppose that both men were called upon by a dodgy fellow, a Monsieur Monet who had a car transporter with used six cars on it he offered three to Mr Nuttall and three to Mr Daley. Monsieur Monet was a sort of wholesaler of used cars who would sell them to used car retailers like Mr Daley and the newbe Mr Nuttall.
He calls upon Mr Nuttall first. Mr Nuttall is well impressed. He buys three late model BMWs. All with low mileage and appear to be in splendid condition! He puts them on the forecourt for £12,995 each – the guide price for a low mileage car of that year.
Monsieur Monet calls upon Mr Daley second. Mr Daley smiles and is impressed. He says to Monsieur Monet, "There very good ringers aren't they! They have been nicely clocked I take it? Monsieur Monet confirms that they have been clocked in such a manner as not to be detected by the authorities. Mr Daley buys the three cars at one third the price that Mr Nuttall paid for his! He puts them on the forecourt for £12,995 each – the guide price for a low mileage car of that year.
What is the difference? Honesty, ignorance and naïveté!
Mr Nuttall is an honest man. He was duped by the duplicitous Monsieur Monet! He did not know the cars had been "ringed" and "clocked". As a result he is selling the cars at the price a lawful vehicle would sell for. Mr Daley on the other hand is as duplicitous as Monsieur Monet! As a result he pays a price that reflects the dodgy nature of the cars.
On Friday 3rd June 2016 we were in the middle of the EU Referendum Campaign.
On that day this organ led with this article: http://www.british-gazette.co.uk/2016/06/03/leaving-the-eu-selling-a-false-prospectus/
We opined that Mr Magnus was correct in his assertion that the Leave campaign were selling a false prospectus but was incorrect in suggesting that the British People should vote Remain.
Throughout the referendum campaign, this organ sought to suggest that the Leave campaign should promote the genuine prospectus that was Flexcit of Dr. Richard North and not the false prospectus of Mr Dominic Cummings.
Now this of course will raise the question of whether or not Mr Cummings and many others knew they were selling a false prospectus?
For the record, your Editor and this organ will state quite categorically that we are assuming that Mr Cummings and everybody else who promoted what this organ and Mr Magnus describe as a false prospectus sincerely and honestly believe and continue to believe that the prospectus was not false but genuine.
This is because included among "everybody else" are the UKIP members in the St. Ives and the Isles of Scilly branch and these to a man and woman are all, good honest upright people many of whom I am pleased to call my friends.
During what we can now describe as "the historic" EU Referendum campaign, along with promoting Flexcit authored by Dr. Richard North and others we urged the leave campaign to follow the strategy that Dr North and this organ were articulating.
As stated before, had the Leave campaign taken our advice it is probably that the remain camp would have won. Although the so-called "Norway Option" has economic and diplomatic advantages over what the UK had in it's EU membership deal, it did not amount to the claims of what the Leave campaign were promulgating for their vision of what Brexit could be.
The depressing conclusion we have to reach is this: Had the Leave campaign followed our advice the referendum would have been lost.
In winning however the Leave campaign has opened Pandora's jar (not box). This is because, notwithstanding their honesty, ignorance and naïveté, UKIP sold the British People a false prospectus. And in an act which is either honest, ignorant and naïve or malevolent, mendacious and Machiavellian, Madam Mayhem is setting out to negotiate a deal along the lines the Unfortunate Mr Nuttall seeks!
Now this forces us to ask this question: Why is Madam Mayhem doing this?
There are two possible reasons:
1. Madam Mayhem is a fool. She is setting this country on a course which in the best case will lead to a much inferior deal from what we had and in the worst case, re-entry into the EU following a crash Brexit and entry into the Eurozone.
2. Madam Mayhem is a fraud. She decided to comply with the demands the honest, ignorant and naïve Unfortunate Nuttall and to pursue a Brexit strategy that is doomed to failure but planning all along to present or manoeuvre Comrade Corbyn and his acolytes into a position of forcing a second referendum where the British People will be persuaded to reverse their decision of Thursday 23rd June 2016 and cancel Brexit.
The bitter, bitter pill we all have to swallow is this: They only British people who will be happy after all this is over will be the Europhiles!