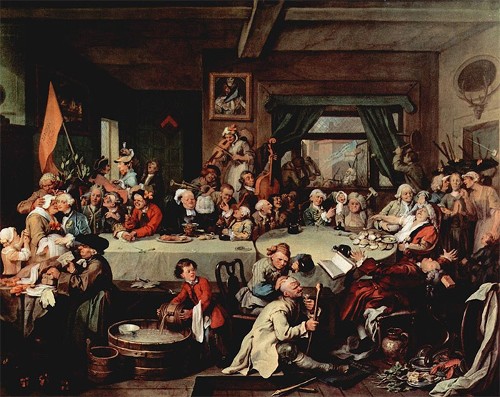 Above, Hogarth's famous 1755 painting, "An Election Entertainment"
History Today (http://www.historytoday.com/peter-quennell/hogarth%E2%80%99s-election-series) has published an article by the late English biographer, literary historian, editor, essayist, poet, and critic Sir Peter Quennell CBE that refers to Hogarth's intentions in his satirical portrayals of elections during his time:
"…..to compose pictures on canvas similar to representations on the stage. … Let the figures in either pictures or prints be considered as players dressed either for the sublime – for genteel comedy, or farce – for high or low life. I have endeavoured to treat my subjects as a dramatic writer…."
Observing the drivel that is said to pass as informed comment that is pumped out in the mainstream media one has to contend that the French proverb, "the more things change, the more they stay the same" sums up this present campaign admirably.
There are of course exceptions. A diamond amidst the dross is of course the excellent EU Referendum blog of Dr. Richard North. In his blog post today (http://eureferendum.com/blogview.aspx?blogno=86469) Dr. North refers to a slim glimmer of hope offered by the Icelandic journalist Hjörtur J. Guðmundsson who has written a splendid contribution to the debate in the EUObserver (https://euobserver.com/opinion/137824).
As Dr. North alluded to his his blogpost yesterday (http://eureferendum.com/blogview.aspx?blogno=86468), Flexcit, aka EFTA+EEA or "the Norway Option" is a stage on a journey – not the end destination.
This organ has repeatedly sought to illustrate this by an analogy of a railway traveller setting out from Penzance to London Paddington. The train crosses the Tamar in Brunnel's famous bridge and stops at Plymouth. There is no alternative (TINA) route! Any attempt at running the HS125 on the A30 is doomed to failure!
Such is the level of misinformation and "spin" being generated by those who themselves are ignorant of the realities of the situation, there is little light to be shed on the intentions of Madam Maybe's government. Madam Maybe is campaigning for a blank cheque under the mantra "strong and stable leadership."
It actually falls to the President of the European Commission, Jean-Claude Juncker to inject some words of common sense into a political debate that is spared of them:
"We all know what to do, we just don't know how to get re-elected after we've done it."
It is in this now famous quote that we can glean Madam Maybe's strategy in this campaign: Being an intelligent woman, Madam Maybe has applied some logic to the conundrum postulated in Juncker's quote. Since she does not know how to get elected AFTER she has done what she has to – she is getting re-elected BEFORE she has done what she has to!
Let us remind ourselves of another of Juncker's little gems. This on Britain's suzerainty to the EU:
"Britain is different. Of course there will be transfers of sovereignty. But would I be intelligent to draw the attention of public opinion to this fact?"
We are already witnessing concerns about the UK leaving the EEA in the German car industry. Leaving the EEA will be a disaster for the UK and by extension Madam Maybe's chances of being re-elected. As may very well be the purgatory outlined by this organ in previous articles.
There HAS to be a "transition period". Of that there can be no doubt. This transition period will be along the lines of the purgatory previously described – in effect governed by the EU with no say. The ONLY way Madam Maybe and the Tories have any chance whatsoever of surviving this is the prospect of pastures green on the other side. This presumably be along the lines of what Mr Guðmundsson is suggesting.
In other words, it will not be the Norway Option but the Norway Option Plus, or Norway Plus. This will be the special deal or the "British Option".
We live in hope.
Meanwhile on Planet UKIP, the Unfortunate Nuttall is prattling on about a "One In, One Out" immigration policy!
Words fail us……