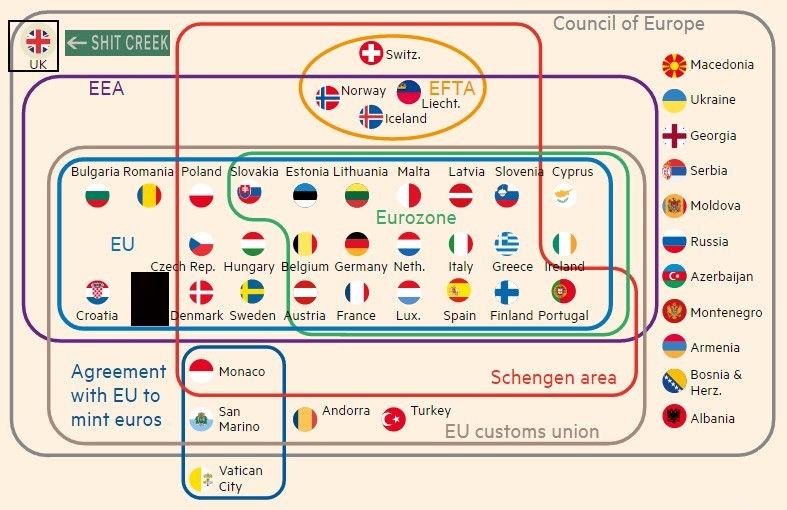 Above, the integration of Europe. Click on image for full size. Apologies to Frederick R. Barnard and the members of the soft rock band, Bread.
Coined by Frederick R. Barnard to illustrate that graphics can impart much the same information as much text and used by Bread in their hit, "IF", the above diagram illustrates where the UK is in relation to it's trading relations with it's key partners.
In his blog-post today (http://eureferendum.com/blogview.aspx?blogno=86653), Dr. North further lays out in detail further aspects of the chaos that is awaiting this poor benighted land were a "no deal" Brexit to take place.
Rather than simply restate in words what Dr. North has stated this organ presents it's readership with a diagram.
You will note a black rectangle – let us call it "the black spot". This denotes where the UK is at present and where it will remain until 11:00PM on Friday 29th March 2019.
At 11:00PM – precisely – on Friday 29th March 2019, the UK will move to where it is in the diagram, the top left hand corner. The reader will note that there is a black border surrounding the UK. This is to illustrate that unlike the other countries on the far right; Macedonia, Ukraine, Georgia, Serbia, Moldova, Russian, Azerbaijan, Montenegro, Armenia, Bosnia-Herzegovina and Albania, the UK will NOT have trading arrangements established with these fellow members of the Council of Europe upon Brexit!
The reader will notice that we have labelled this as Shit Creek!