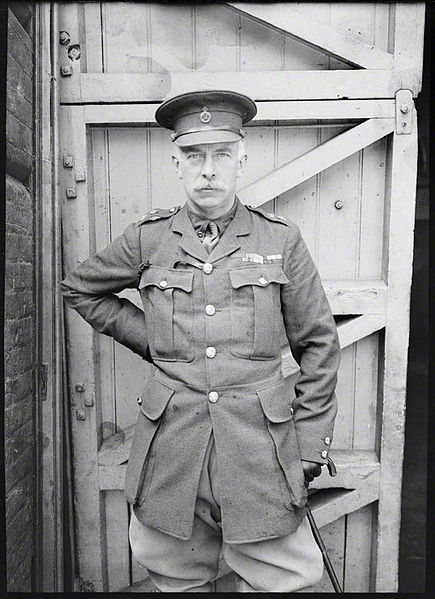 Above, Adolphus, 1st Marquess of Cambridge GCB, GCVO
When the Queen's grandfather set about "rebranding" the Royal family in 1917 he required of his brother-in-law (and his other relatives of Germanic ancestry) to relinquish their German styles, dignities, titles appellations and associated qualifications. Thus His Highness, the Duke of Teck was created Marquess of Cambridge, Earl of Eltham, and Viscount Northallerton all in the Peerage of the United Kingdom. He had hoped for the titles of his grandfather, Prince George, 2nd Duke of Cambridge, Earl of Tipperary, and Baron Culloden. However, King George refused.
Why? And why is this of ANY relevance?
Because King George V knew that Teck had very little money and was effectively living on the King's largesse and therefore could not support a dukedom.
Support a dukedom?
If you surf onto the Tatler magazine's website (http://www.tatler.com/) you will be able to see how some of the descendants of the Great War era aristocrats socialise. There is a similarity between the traditional upper class and the traditional working class which the aspirational middle class do not share. That is the sense of importance of how you present yourself to your peers (i.e.; your own social group). Which is why women in Liverpool will dress up and make a day of going to the Grand National at Aintree and their Tatler reading equivalents will do the same at Epsom when they have Ladies Day. We generalise; but you get the point.
King George V was no academic but, like his granddaughter, was nobody's fool and was not going to hand Teck letters patent of creation that would merely get him into an even deeper hole than he was already in!
"How is this relevant in 2018!" We hear you shout at your screens.
THIS:
Today, Her Majesty the Queen at the Commonwealth Heads of Government Meeting (CHOGM) made it perfectly clear that "when the time came" she wished to see her successor the Prince of Wales who would then be King, succeed her as Head of the Commonwealth.
At this point, the British Gazette will give some advice to Dear Old Comrade Corbyn who has suggested a rotating Presidency along the lines of the EU: Comrade, say nothing.
Present indications are that the Commonwealth Leaders are going along with this. Amidst the colonial era Imperial splendour of Buckingham Palace one could almost imagine that one was back in April 1918 and not April 2018!
Many members of the British public will wonder how the Queen and her British government hopes and expects to get her wish fulfilled. "Surely times have changed?" they will exclaim.
They have but one thing remains the same. The truth of the saying, "He who pays the piper calls the tune."
THIS we respectfully suggest is why successive British governments have steadily – even amidst the depths of recession – resisted calls from such as Nigel Farage to cut back on the amount of Foreign Aid. You see, the FACT is that the hard pressed British taxpayer will see a lot of their taxes handed over to Commonwealth nations in order to sustain the spectacle in Buckingham Palace we have seen on our TV screens today.