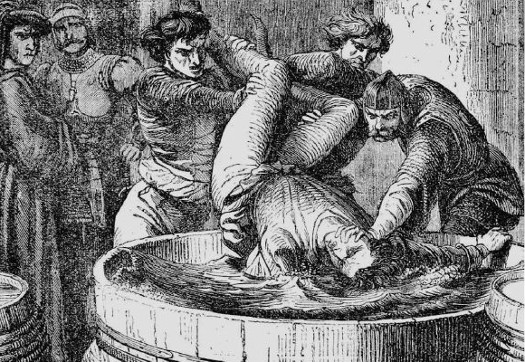 Above, the drowning of George Plantagenet, 1st Duke of Clarence.
And, yes, some wit may suggest it that it could be Prince Harry being sobered up early tomorrow morning!
This morning, "The Daily Torygraph" again speculated about Prince Harry being created the Duke of Sussex (https://www.telegraph.co.uk/news/2018/05/18/duke-duchess-sussex-will-meghan-harrys-royal-titles/) on the eve of this wedding – which means this evening.
The British Gazette would refer "The Daily Torygraph" to our article published on the 1st April – April Fool's Day!
GOTO: http://www.british-gazette.co.uk/2018/04/01/advance-notice-of-ennoblement-meghan-markle-becomes-duchess-of-albany-countess-of-clarence-and-baroness-trematon/
Many readers of course will suggest that tomorrow is a great non event not worth of mention, but the British Gazette strongly disagrees. They may be rich and famous but Harry and Meghan will be like many couples tomorrow – for Saturday is the most popular day for weddings – making a public commitment to share the rest of their lives together.
We wish them well.