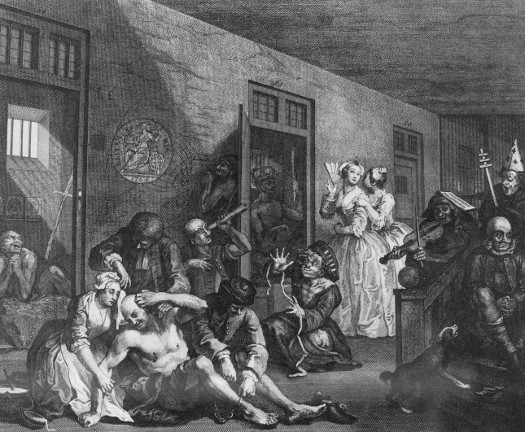 Above, the mezzotint by William Hogarth which is plate 8 of "A Rake's Progress". The caption is reprinted below:
Madness, thou chaos of the brain,
What art that pleasure givist and pain ?
Tyranny of Fancy's reign!
Mechanic Fancy that can build
Vast Labyrinths and Mazes wild,
With rule disjointed shapeless measure,
Filled with horror, filled with pleasure!
Shapes of Horror, that would even
cast doubt of Mercy upon Heaven!
Shapes of Pleasure, that but seen
Would split the shaking sides of spleen.
Oh vanity of age! Here see
The stamp of heaven effaced by thee.
The headstrong course of youth thus run,
What comfort from this darling son!
His rattling chains with terror hear,
Behold Death grappling with despair.
See him by thee to ruin sold,
And curse thy self and curse thy gold
Invented by William Hogarth & Published according to Act of Parliament June ye 25 1735.
Today is the 700th day from Thursday 23rd June 2016; the day when the British People decided by a majority of circa. 52%/48% to leave the European Union.
The number of days is instructive. This is because depending upon what has happened between an event and the day that one is looking back to, is an indication of the level of activity that has taken place. If there has been a lot that has been achieved or done, then the time will have seemed to have sped by. If however little has been achieved or done, then the time will have seemed to have dragged by at a turgid pace!
Thus we can leave the perception of it to you Dear Reader!