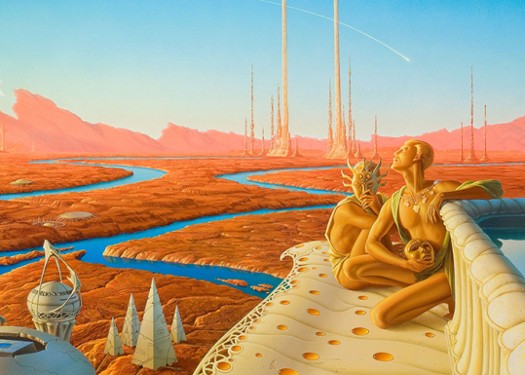 Above, an imaginary scene on another planet orbiting another sun hundreds or thousands of light years away.
Human imagination is a wonderful thing. It is responsible for so much; art in all its varied forms and of course science and technology.
However, whilst indulging in fantasy, we must retain the ability to function and live in the real world!
It appears my local UKippers have truly slipped the bounds of earthly reality and are soaring into the realm of fantasy…….
FANTASY:
Dear [redacted],
There are "chinks of light" coming from a few countries on the continent as they express their concerns on the interruption of trade with the UK.
The PM has nothing to lose by going straight to those countries. Mr. Barnier is a dead loss. He can only say "NO" as he is hidebound by thousands of EU laws and directives, all tangled together over 40 years or more. In true EU fashion, he has to do as he is told! We have been saying this for two years and is precisely why we are getting out.
There is no reason why traffic at the ports cannot continue to roll on – roll off as in the past by using up – to – date technology. The UK has put shed-loads of cash into Galileo over the years. What right has Barnier to obstruct this?
The UK should be demanding another negotiator. Negotiation means looking at and implementing what is in the best interests of both sides. Saying "NO" is not negotiating.
We all want a good deal and not leave without anything agreed. But it's been obvious for two years that the EU bureaucrats cannot give in. It's not in their power to do so. Problem is, they don't have the guts to say so.
If they persist in this intransigence, World Trade rules would not disadvantage the UK, and the EU bureaucrats know this.
[redacted]
REALITY: http://eureferendum.com/blogview.aspx?blogno=86944 (Courtesy of Dr. North)